SARA LANGTVED CROWNED MISS EARTH DENMARK 2019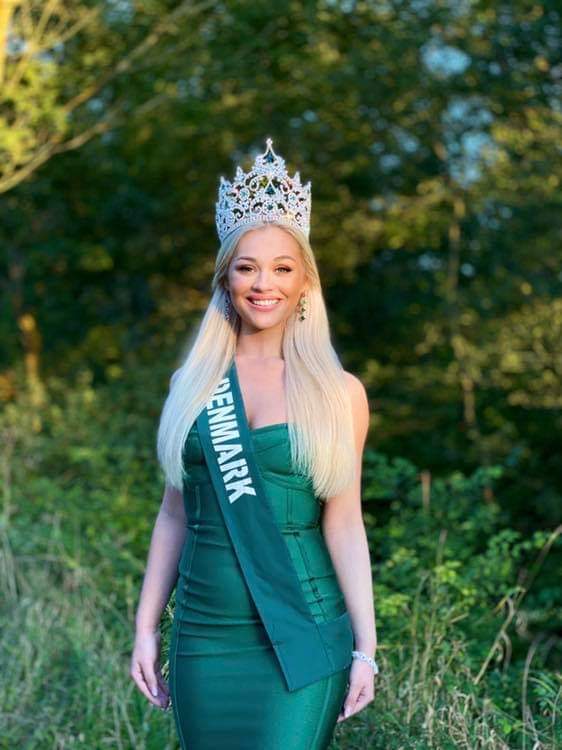 We are excited to announce that Sara Langtved has been crowned Miss Earth Denmark 2019 and will proudly represent Denmark at Miss Earth 2019 in Philippines from the September 29th to October 28th.
The MISS EARTH Pageant is an International Environmental Event channeling the beauty pageant entertainment industry as an effective tool to promote environmental. Apart from a strong emphasis on environmental protection programs, MISS EARTH also aims to showcase and promote various tourist destinations. Every year, 80 to 90 candidates from all over the world compete on beauty and knowledge of environmental issues. The winner of MISS EARTH will serve as the Ambassador to environmental protection campaigns worldwide. MISS EARTH continues to build its reputation as a relevant and worthwhile event worldwide, setting a legacy of beauty and responsibility. Thru Eco Ambassadors aptly named, "BEAUTIES FOR A CAUSE".
Our lovely Sara is a Miss Universe Denmark 2019 Top Finalist & winner of the Miss Congeniality award.
We would like to congratulate Sara & wish her an unforgettable journey!
Warmest regards,
Lisa Lents
CEO
Miss Denmark Organization
ABOUT MISS EARTH DENMARK 2019
Age: 24 years old
City/Region: Copenhagen
Height: 163 cm
Occupation: Office Trainee in Public Administration at Copenhagen Business School and works as a disability assistant
Interests: Yoga, fitness, family, animals, nature, travelling, modeling
Motto: "Having faith in myself has brought me to where I am today. You are your own hero and you can achieve anything, if you believe in yourself."
Sara is a 24-year-old woman, with many ambitions and dreams for the future.
As a child, she grew up in a small idyllic town, with her parents and three younger siblings. Sara has 2 sisters and one little brother. Her little brother was born with Downs Syndrome and autism, which meant most of their conversations, were in sign language. Growing up with siblings, one with special needs, made Sara look at the world in a completely different perspective. She learned how to appreciate life to the fullest and not to take anything for granted. She also learned to respect and understand diversity in human beings, and she came to love diversity so much, that many years after Sara worked as a caretaker for children with special needs. As a child, Sara was always near animals or people. Growing up she used to ride Fjord horses and spend a lot of time in the nature, because she lived right next to huge fields and forests.
Sara loves spending time with her family and she enjoys every minute of it.
Since her childhood, Sara has always loved to sing and perform. She comes from a very musical family, where both her uncle and aunt have their own bands with self-produced music. She also practices yoga, in order to create harmony and balance between body and mind.
Sara is now working as an Office Trainee in Public Administration at Copenhagen Business School, and her dream is to take her Graduate Diploma in Business Organization and Management. She works as a caretaker for children with special needs, next to my studies.
Sara has always enjoyed exploring the world, first by travelling with family and later, by herself. Experiencing the world and meeting different cultures, has provided Sara with a bigger understanding and respect for people's diversity. Her respect for different cultures does not come from travelling alone. Her family is a broad mix of people from all over the world, some with roots in England, some in the United States and others are from Poland, Iran and even from India. Conversations at social gatherings are therefore often conducted in English. Sara strives to live by H.C. Andersen's quote: "To travel is to live." The newly crowned Miss Earth Denmark is super excited to experience the Philippines for the first time.
ABOUT MISS EARTH DENMARK'S ADVOCASY
My advocacy evolves around plastic use around the world. Plastic is one of the worlds biggest issues, although plastic is a reusable resource, but is oftener found in the nature, and ends eventually in the ocean.
As humans, it is our duty to rethink, reduce, reuse, recycle and respect.
Our ecosystem is a gift from nature to us human beings. The use we have of plastic around the world, has participated to tare the ecosystem significantly.
In order to rebuild our ecosystem to the way it was before, we as human beings, are going to have to make some drastic changes in the way we use plastic.
What tips can you share to promote ecotourism climate change?
It is essential that we, as human beings, minimize the enviromental impact of tourism all around the world. As citizens of the earth, it is our responsibility to build the environmental awareness in people's consciousness.
Tip 1.
If you are flying to a destination, you should travel as light as possible. In fact, the more the airplane weighs, the more carbon emissions is being produced - light travelling is the key!
Tip 2.
We all need water to survive, but the single-use water bottles is actually very bad for the environment. If you make sure to pack a glass bottle/iron bottle before your flight, or you buy one at your destination, you can make a huge difference!
Tip 3.
When you choose a hotel to stay at, at your desired destination, you can choose to stay at eco-cerified tour hotels - they promote and contributes to ecotourism.
What makes you proud of your country?
There are so many things that makes me proud of my country - one of the biggest things, out great healthcare system. Our healthcare system provides healthcare to everyone - and basic healthcare is free. The Danish health service is one of the best in the world. It is financed through income tax - this means, that public medical treatment in Denmark is available for anyone who has a CPR number. On top of that, there is free emergency healthcare for visitors from all over the world.
Denmark is one of the happiest countries in the world, and we even enjoy our way to work each morning - more than 50% of Copenhageners cycle to work every day and Denmark has more than 12.000 km of cycle tracks and lanes.
What makes me proud as well, is that Denmark are pioneers in renewable energy, such as wind power. Today a substantial share of the wind turbines in the world are produced by Danish manufactures.
What can you promote about your country?
In Denmark, we have clean tap water. In Denmark, around 99% of our tap water is based on groundwater, which is drawn from aquifers, located below our Danish subsoil. It is so clean, that it is not necessary to add chlorine to purify it.
Denmark has one of the best healthcare systems in the world - if offers free emergency healthcare for visitors from all over the world.
Denmark has a fantastic cycle-culture! We cycle almost everywhere - this cultures is one of the essential things, that keeps the total health of Denmark positiver.
Denmark is a water-country. We have a lot of coastlines, and wherever you are placed in Denmark, you are never more than 52km from the ocean!
One of the most famous authors in the world is danish! Hans Christian Andersen, who wrote "The little Mermaid", "The Snow Queen", "The Ugly Duckling" and so on.

Farah Vavaihan

PAGEANT REPORTER





Number of posts

: 10025


Location

: Laguna, Philippines


Favourite Pageant

: Miss International Queen


Favourite Miss

: Kevin Balot


Registration date :

2016-01-31







Farah Vavaihan

PAGEANT REPORTER





Number of posts

: 10025


Location

: Laguna, Philippines


Favourite Pageant

: Miss International Queen


Favourite Miss

: Kevin Balot


Registration date :

2016-01-31







Farah Vavaihan

PAGEANT REPORTER





Number of posts

: 10025


Location

: Laguna, Philippines


Favourite Pageant

: Miss International Queen


Favourite Miss

: Kevin Balot


Registration date :

2016-01-31







Farah Vavaihan

PAGEANT REPORTER





Number of posts

: 10025


Location

: Laguna, Philippines


Favourite Pageant

: Miss International Queen


Favourite Miss

: Kevin Balot


Registration date :

2016-01-31







bonner

FORUM ADMINISTRATOR





Number of posts

: 73443


Age

: 30


Location

: Makati City, Philippines


Favourite Pageant

: Miss Universe
Bb Pilipinas


Favourite Miss

: Lalaine Bennett (Philippines Universe 1963 - From our Town Bayombong)
Rachel Smith(Miss USA 2007)
Angela Martini (Miss Albania Universe 2010)



Registration date :

2008-11-17






---
Permissions in this forum:
You
cannot
reply to topics in this forum