Many international competitions were completed despite the epidemic, no problems were experienced 
Miss Universe, Miss Grand İnternational  and many similar competitions were held even during the epidemic
It was as if there were no infected cases in those competitions, or if the test was done, of course, there would be infected people in those competitions. 
Miss World Team should never hide behind excuses, they have already disgraced themselves enough. 
Women from many countries are preparing to compete for the Miss World contest with great efforts and efforts, it is canceled half an hour before the final, and then there is an online election without a jury, even fools would not believe it. 
already miss world has lost a huge reputation   Now it encourages non-winners to join online
How will Miss World regain its reputation from now on, playing with the pride of hopeful girls who have been waiting for the final for days?
The girls, who could not appear before the jury in the last hours, learn that they could not win in the online election without even knowing it, then they mockingly ask for online participation.
know-it-all commentators and bloggers may have won your own country, but in the same way, respect the girls who put their effort and effort, you don't need to come out here and pretend to be the advocacy of miss world.
I don't care if some people will be angry if I criticize Miss World, but I don't think the Miss World election was fair.
I'm guessing that some of the nominees who didn't win the contest but were asked to enter online will never enter.
You Have Lost a Huge Reputation Miss World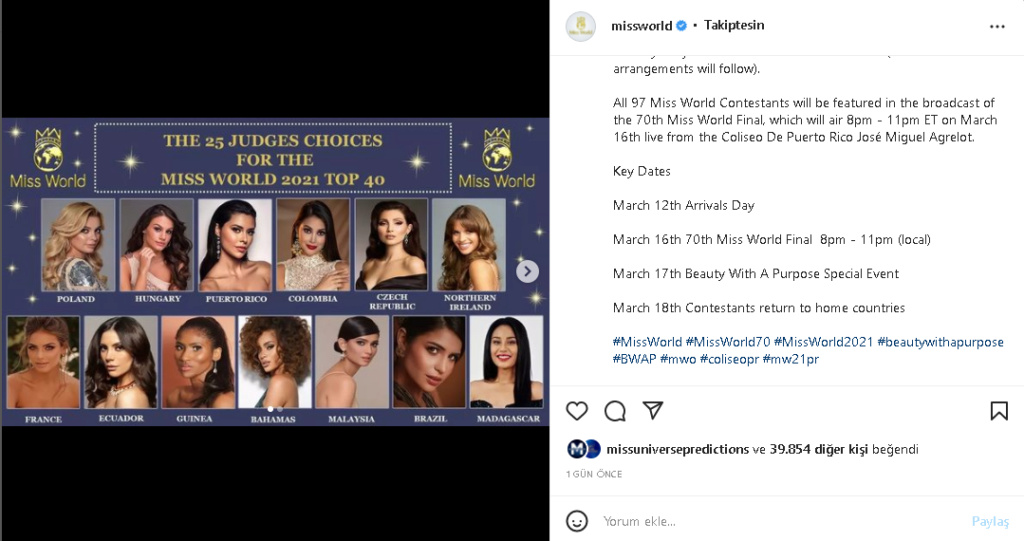 Similar topics
---
Permissions in this forum:
You
cannot
reply to topics in this forum