Here are the Lucky numbers at Bb Pilipinas (1965 - 2018)
Updated Regularly
CONTESTANT NUMBER 1
2018 - Vickie Marie Rushton (First Runner Up)
2005 - Wendy Valdez (First Runner Up)
2004 - Princess Jasmine Tiongson (Second Runner Up)
2000 - Ma. Cristina Tan (First Runner Up)
1995 - Reham Snow Tago (World)
1994 - Shiela Marie Dizon (Tourism)
1993 - Sheela Mae Santarin (International)
1992 - Elizabeth Berroya (Universe)
1987 - Marie Avon Boyle Garcia (Tourism)
1982 - Adela Lisa Gingerich Manibog (International)
1975 - Nanette Hernandez (First Runner Up)
NUMBER 2
2008 - Patricia Fernandez (International)
2000 - Nicole Hofer (Second Runner Up)
1999 - Joelle Marie Pelaez (Second Runner Up)
1992 - Hazel Huelves (First Runner Up)
1988 - Maria Muriel Oleriana Moral (Maja)
1965 - Louise Vail Aurelio (Universe)
NUMBER 3
2009 - Ritchell Angalot aka Rich Asuncion (First Runner Up)
2007 - Abigail Lesley Cruz (Second Runner Up)
1998 - Elsie Sicat (First Runner Up)
1994 - Eda Calonia (Second Runner Up)
1993 - Myra Macariola (Second Runner Up)
1984 - Rachel Anne Bulawin Wolfe (Young International)
1969 - Carmina Gutierrez (Fourth Runner Up)
NUMBER 4
2014 - Parul Shah (Tourism)
1989 - Suzanne Fahling (First Runner Up)
NUMBER 5
2002 - Kristine Alzar (International)
1999 - Miriam Quiambao (Originally World then Universe)
NUMBER 6
1985 - Sabrina Simonette Marie Roig Artadi (International)
1984 - Corazon Tierro (First Runner Up)
NUMBER 7
2008 - Jennifer Barrientos (Universe)
2001 - Zorayda Ruth Andam (Universe)
1995 - Gladys Duenas (International)
1990 - Mutya Crisostomo Laxa (First Runner Up)
1983 - Maria Anna Cadiz (Maja)
NUMBER 8
2015 - Kimverlyn Suiza (Second Runner Up)
2012 - Nicole Schmitz (International)
2008 - Danielle Castaño (First Runner Up (during the pageant) /World)
2005 - Carlene Aguilar (World)
2001 - Michelle Reyes (First Runner Up)
1989 - Jeanne Therese Plata Hilario (Maja)
1969 - Denden Quirino (Second Runner Up)
NUMBER 9
2007 - Anna Theresa Licaros (Universe)
2006 - Denille Lou Valmonte (International)
NUMBER 10
2015 - Pia Alonzo Wurtzbach (Universe)
2010 - Maria Venus Raj (Universe)
2004 - Maria Karla Bautista (World)
2001 - Maricar Balagtas (Second Runner Up)
1989 - Maria Rita Manalili Apostol (Flower Queen)
1965 - Elvira Gonzalez (Fourth Runner Up)
NUMBER 11
2016 - Nicole Cordoves (Grand International)
2015 - Janicel Lubina (International)
2014 - Laura Victoria Lehmann (First Runner Up)
2010 - Krista Kleiner (International)
2009 - Regina Hahn (Second Runner Up)
2007 - Margaret Nales Wilson (World)
2006 - Rosalyn Santiago (First Runner Up)
1998 - Collete Centeno (International)
1974 - Pacita Guevarra (Maja)
NUMBER 12
2003 - Jhezarie Javier (International)
2001 - Maricarl Tolosa (International)
2000 - Joanna Marie Peñalosa (International)
1992 - Jo-Anne Timothea Alivio (International)
NUMBER 13
2016 - Joanna Louise Eden (Supranational)
2013 - Kris Tiffany Janson (Intercontinental)
2012 - Katrina Jayne Dimaranan (Tourism)
2003 - Kate Baesa (First Runner Up)
1969 - Maricar Azaola (Third Runner Up)
NUMBER 14
2018 - Samantha Mae Bernardo (2nd Runner Up)
2007 - Nadia Lee Cien Shami (International)
2005 - Melanie Ediza (Second Runner Up)
2000 - Nina Ricci Alagao (Universe)
1997 - Susan Jane Ritter (International)
1994 - Charlene Gonzales (Universe)
1986 - Violeta Asela Enriquez Nalus (Universe)
NUMBER 15
2017 - 
Maria Angelica de Leon (International)
2013 - Pia Wurtzbach (First Runner Up)
2012 - Elaine Kay Moll (First Runner Up)
2009 - Pamela Bianca Manalo (Universe)
2008 - Janina San Miguel (World)
2002 - Margaret Ann Bayot (First Runner Up)
1999 - Lalaine Edson (Originally International then World)
1997 - Abiele Arianne del Moral (First Runner Up)
1983 - Shalymar Orcullo Alcantara (Young International)
1982 - Maria Isabel Lopez (Universe)
1978 - Luz Policarpio (International)
NUMBER 16
2013 - Joanna Cindy Miranda (Tourism)
1996 - Maria Sovietskaya Bacud (First Runner Up)
1985 - Maria Luisa de Asis Gonzales (Maja)
1976 - Maria Dolores Ascalon (International)
1974 - Guadalupe Sanchez (Universe)
1965 - Sehba Mulok (Second Runner Up)
NUMBER 17
2018 - Ma Ahtisa Manalo (International)
2009 - Marie Ann Umali (World)
2006 - Lia Andrea Ramos (Universe)
2005 - Gionna Cabrera (Universe)
2004 - Margaret Anne Bayot (International)
2002 - Katherine Anne Manalo (World)
1994 - Caroline Subijano (World)
1989 - Lilia Eloisa Marfori Andanar (International)
1986 - Catherina Salazar (First Runner Up)
1985 - Joyce Ann Fellosas Burton (Universe)
1983 - Rosita Cornel Capuyon (Universe)
1978 - Katherine Manuel (First Runner-up)
1966 - Elizabeth Winsett aka Liza Lorena (First Runner-up)
NUMBER 18
2017 - 
Nelda Ibe (Globe)
2012 - Janine Mari Tugonon (Universe)
2010 - Nicolette Henson (Second Runner Up)
2008 - Elizabeth Nacuspag (Second Runner Up)
2000 - Catherine Anwenn De Guzman (World)
1992 - Marina Pura Benipayo (Originally Maja then World)
1988 - Maria Anthea Oreta Robles (International)
1981 - Alice "Peachy" Sacasas (International)
1975 - Jean Saburit (Young International)
1971 - Vida Doria (Universe)
1970 - Simonette de los Reyes (Universe)
NUMBER 19
2018 - Michele Gumabao (Globe)
2017 - 
Rachel Louise Peters (Universe)
2015 - Christi Lynn McGarry (Intercontinental)
2004 - Maricar Balagtas (Universe)
2003 - Maria Rafaela Yunon (World)
2002 - Karen Agustin (Universe)
1992 - Marilen Espino (Originally World then Maja)
1987 - Geraldine Edith Asis (Universe)
1983 - Flor Eden Guano Pastrana (International)
1979 - Mimilanie Marquez (International)
NUMBER 20
2018 - Catriona Gray (Universe)
2013 - Bea Rose Santiago (International)
2009 - Melody Gersbach (International)
2006 - Anna Maris Igpit (World)
2004 - Tracy Ann Javelona (First Runner Up)
2003 - Noella Mae Evangelista (Second Runer Up)
2002 - Maria Lourdes Magno (Second Runner Up)
1994 - Abbygale Arenas (First Runner Up)
1990 - Milagros Javelosa (Tourism)
1989 - Sara Jane Davis Paez (Universe)
1987 - Angela Larrazabal (First Runner Up)
1972 - Armi Barbara Crespo (Universe)
1965 - June Frances Roco (Third Runner-up)
NUMBER 21
2010 - Czarina Gatbonton (World)
2006 - Jeanne Bello (Second Runner Up)
2005 - Precious Lara Quigaman (International)
2001 - Girlhea Quinzon (World)
1998 - Rachel Soriano (World)
1997 - Marivic Galang (Second Runner Up)
1993 - Cristina Esguerra (First Runner Up)
1987 - Rosabelle Adriano (Second Runner Up)
1984 - Catherine Jane Brummitt (International)
NUMBER 22
2017 - 
Chanel Olive Thomas (Supranational)
2014 - Mary Ann Bianca Guidotti (International)
2010 - Diane Necio (First Runner- Up)
1991 - Jenette Fernando (First Runner Up)
1990 - Leonor Cueto (Second Runner Up)
1988 - Perfida Reyes Limpin (Universe)
1987 - Maria Luisa Jimenez (Maja)
1985 - Rita Rosanna Biazon (Second Runner Up)
1984 - Anna Mari Lingad (Second Runner Up)
1978 - Maria Luisa Montinola (Second Runner Up)
1970 - Elizabeth Magbanua (Second Runner Up)
1969 - Gloria Diaz (Universe)
NUMBER 23
2003 - Carla Balingit (Universe)
1984 - Maria Desiree Ereso Verdadero (Universe)
1974 - Erlyn Bernardez (International)
1969 - Margaret Rose "Binky" Montinola (International)
1967 - Pilar Pilapil (Universe)
NUMBER 24
2015 - Ann Loraine Colis (Tourism)
2007 - Leizel Verses (First Runner Up)
1996 - Aileen Leng Marfori Damiles (Universe)
1990 - Germelina Leah Padilla (Universe)
1989 - Michelle Blardony (Second Runner Up)
1983 - Matea Leah Aurora Tejada Tagle (First Runner Up)
1965 - Isabelle Santos (First Runner-up, handpicked to represent the Philippines at Miss International)
NUMBER 25
2015 - Rogelie Catacutan (Supranational)
2014 - Mary Jean Lastimosa (Universe)
2011 - Isabella Manjon (Tourism)
1999 - Georgina Sandico (Originally Semi-finalist then International)
1998 - Jewel May Lobaton (Originally Second Runner Up then Universe)
1988 - Lorna Villanueva Legaspi (Second Runner Up)
1981 - Maria Caroline Mendoza (Universe)
1966 - Clarinda Soriano (Universe)
NUMBER 26
2016 - Jennifer Ruth Hammond (Intercontinental)
2011 - Shamcey Supsup (Universe)
1994 - Alma Concepcion (International)
1990 - Jennifer Pingree (International)
1989 - Marichele Lising Cruz (Tourism)
1985 - Glenah Marie Valmonte Slaton (First Runner Up)
NUMBER 27
2014 - Hannah Ruth Sison (Second Runner Up)
2011 - Janine Tugonon (First Runner Up)
1982 - Maria Ana Liza Gino (Second Runner Up)
NUMBER 28
2016 - Nichole Marie Manalo (Globe)
2015 - Hannah Ruth Sison (First Runner Up)
1990 - Precious Bernadette Tongko (Maja)
1988 - Maritoni Judith Macariola Daya (Tourism)
1986 - Jessie Alice Salones Dixson (International)
1985 - Divina Cristina Zaballero Alcala (Young International)
1982 - Sharon Georgina Hughes (Young International)
NUMBER 29
2016 - Maria Mika Maxine Medina (Universe)
2012 - Annalie Forbes (Second Runner Up)
1999 - Michelle Arcangel (First Runner Up)
1995 - Margaret Laing (Second Runner Up)
1978 - Anne Rose Blas (Young International)
NUMBER 30
1995 - Joanne Santos (Universe)
NUMBER 31
2018 - Jehza Huelar (Supranational)
2017 - 
Katarina Rodriguez (Intercontinental)
2016 - Kylie Verzosa (International)
1992 - Michelle Buan (Second Runner Up)
1991 - Selina Manalad (Maja)
1987 - Maria Lourdes Enriquez (International)
1978 - Ligaya Pascual (Maja)
NUMBER 32
2018 - Eva Psychee Patalinjug (Grand International)
2017 - 
Charmaine Elima (1st Runner Up)
1997 - Kristine Rachel Florendo (World)
1996 - Daisy Reyes (World)
1991 - Anna Marie Torres (Originally Semi-finalist then Second Runner Up)
1984 - Maritoni Judith Macariola Daya (Press Photography)
NUMBER 33
2011 - Diane Necio (International)
1997 - Abbygale Arenas (Universe)
1991 - Maria Patricia Betita (International)
1986 - Maria Cristina Ramos Recto (Maja)
1982 - Nanette Cruz (Maja)
NUMBER 34
2011 - Mary Jean Lastimosa (Second Runner Up)
1996 - Yedda Marie Mendoza Kittilstvedt (International)
1968 - Charina Zaragoza (Universe)
NUMBER 35
2014 - Yvette Marie Santiago (Supranational)
1988 - Amelia Joy dela Cruz (First Runner Up)
NUMBER 36
1996 - Sonia Santiago (Second Runner-up)
1991 - Maria Lourdes Gonzalez (Originally Semi-finalist then Universe)
1986 - Christine Japlit Bonifacio (Second Runner Up)
1982 - Maria Desiree Verdadero (First Runner Up)
1972 - Maria Isabel Seva (Charming Pilipinas)
NUMBER 37
2016 - Jehza Mae Huelar (2nd Runner Up)
NUMBER 38
2018 - Karen Gallman (Intercontinetal)
2016 - Angelica Alita (1st Runner Up)
1993 - Melinda "Dindi" Gallardo (Universe)
1984 - Maria Villa Bella dela Pena Nachor (Maja)
NUMBER 39
2017 - 
Elizabeth Clenci (Grand International)
2013 - Mutya Johanna Datul (Supranational)
1993 - Sharmaine "Ruffa" Gutierrez (World)
1983 - Racquel Buenaventura (Second Runner Up)
NUMBER 40
2017 - 
Kristel Guelos (2nd runner Up)
1995 - Caroline Pobre (First Runner Up)
1978 - Jennifer Cortez (Universe)
1972 - Yolanda Dominguez (International)
NUMBER 41
2013 - Ariella Arida (Universe)

NUMBER 45
1972 - Maria Lourdes Vallejo - (Young Pilipinas)
NUMBER 50
1975 - Anette Liwanag (Maja)
NUMBER 53
1975 - Rosemarie "Chiqui" Brosas (Universe)
credits to Deybid and Townee Paat
Last edited by bonner on Sat Mar 31, 2018 5:32 am; edited 7 times in total

bonner

FORUM ADMINISTRATOR





Number of posts

: 110358


Age

: 33


Location

: Makati City, Philippines


Favourite Pageant

: Miss Universe
Bb Pilipinas


Favourite Miss

: Lalaine Bennett (Philippines Universe 1963 - From our Town Bayombong)
Rachel Smith(Miss USA 2007)
Angela Martini (Miss Albania Universe 2010)



Registration date :

2008-11-17






The Most Lucky Number this year is
Another "Maria" won Miss Universe Philippines, this time is Maria Mika Maxine
Medina. Other Maria in the past are
1964 - Maria Myrna Sese Panlilio

1966 -  Maria Clarinda Garces Soriano (Top 15)

1969 - Maria Gloria Diaz (Miss Universe 1969)
1973 - Maria Margarita Moran (Miss Universe 1973)
1980 - Maria Rosario "Chat" Silayan (3rd Runner Up)
1981 - Maria Caroline "Maricar" de Vera Mendoza 
1982 - Maria Isabel Lopez 
1984 - Maria Desiree Verdadero (3rd Runner Up)
1991 - Maria Lourdes "Alou" Talam Gonzales
2010 - Maria Venus Raj (4th runner up)
This is the first time that a number 29 won Miss Universe Philippines 
---
Kylie Verzosa (Bb Pilipinas - International 2016) ended the long drought of the number 31 to win another crown. The last time is in 1991
---
Jennifer Hammond (Bb Pilipinas - Intercontinental 2016)
#26 is also the number of Shamcey Supsup in 2011
---
Joanna Eden (Bb Pilipinas - Supranational 2016). Who will think number 13 is not a lucky number? 
---
Nicole Cordoves (Bb Pilipinas - Grand International 2016). For 3 consecutive years number 11 is always in the Top. Last year Janicel Lubina (#11) won Bb Pilipinas - International, & in 2014 Laura Lehmann as the 1st runner up who is also the number 11
---
Nichole Manalo (Bb Pilipinas - Globe 2016). #28 is Hanna Ruth Sison number last year who only placed 1st runner up for her 3rd attempt.
---
Angelica Alita (1st runner up)
A crown is reserved for her. Hope she will compete again soon
Jehza Huelar (2nd Runner Up)
She is the first number 37 to placed as runner up. No one yet win any title with a number 37
---
2016 lucky numbers
29, 31, 26, 13, 11, 28, 38, 37
perfect for lottery? 

bonner

FORUM ADMINISTRATOR





Number of posts

: 110358


Age

: 33


Location

: Makati City, Philippines


Favourite Pageant

: Miss Universe
Bb Pilipinas


Favourite Miss

: Lalaine Bennett (Philippines Universe 1963 - From our Town Bayombong)
Rachel Smith(Miss USA 2007)
Angela Martini (Miss Albania Universe 2010)



Registration date :

2008-11-17






UNIVERSE
Binibini 19 Rachel Louise Peters is the New Miss Universe Philippines. The last candidate #19 Miss Universe Philippines in Bb Pilipinas is Maricar Balagtas (2004) who is also from Kagandahang Flores Camp. Likewise in 2002 Karen Agustin was also under KF camp!

 INTERNATIONAL
Binibini 15 Maria Angelica de Leon is the new Bb Pilipinas - International. The last winner of this title with the same number is Lalaine Edson in 1999 however she competed in Miss World 1999 after the original Universe that year was dethroned due to citizenship.  
 SUPRANATIONAL
Binibini 22 Chanel Olive Thomas is the new Bb Pilipinas - Supranational. Miss Supranational is officially ranked as #3 in Bb Pilipinas 
 GRAND INTERNATIONAL
Binibini 39 Elizabeth Clenci is the new Bb Pilipinas Grand International. She was the second number 39 titleholder - the first one is Mutya Datul in 2013 who won Miss Supranational 2013 later. Will Elizabeth the first winner from the Philippines in Miss Grand?
 INTERCONTINENTAL
Binibini 31 Katarina Rodriguez is the new  Bb Pilipinas - Intercontinental. The Philippines never win yet in this pageant. Last year Kylie Verzosa is Binibini 31 too and later won Miss International 2016. Will Katarina repeat the same victory of a Binibini 31 ?
 GLOBE
The last Binibini 18 titleholder was Janine Tugonon in 2012. Nelda Ibe is the new Bb Pilipinas - Globe. Not really a major major pageant but definitely she will have a good fight. 
 1st Runner Up
1st Runner Up is not bad but for a 2nd timer like Charmaine is kinda not so lucky number for her. The last Binibini 32 titleholder is Kristine Rachel Florendo (World 1997). 
 2nd Runner Up
Kristel Guelos is one of the shortest in their batch. Her number is her lucky charm. 

bonner

FORUM ADMINISTRATOR





Number of posts

: 110358


Age

: 33


Location

: Makati City, Philippines


Favourite Pageant

: Miss Universe
Bb Pilipinas


Favourite Miss

: Lalaine Bennett (Philippines Universe 1963 - From our Town Bayombong)
Rachel Smith(Miss USA 2007)
Angela Martini (Miss Albania Universe 2010)



Registration date :

2008-11-17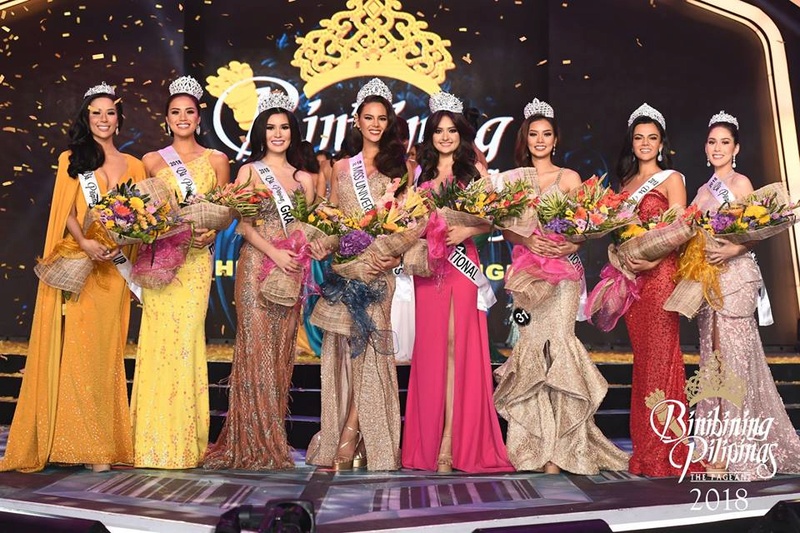 Miss Universe Philippines 2018 – Catriona Gray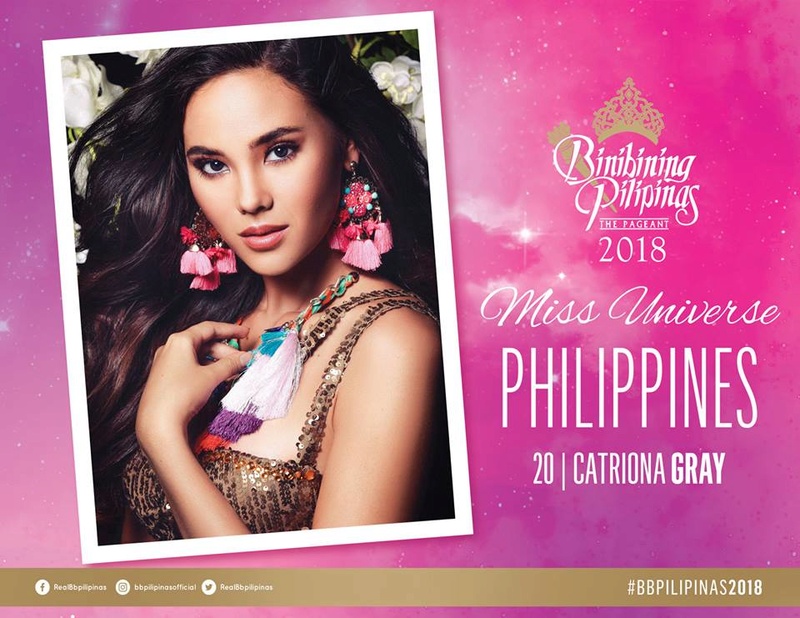 Bb. Pilipinas – International 2018 – Maria Ahtisa Manalo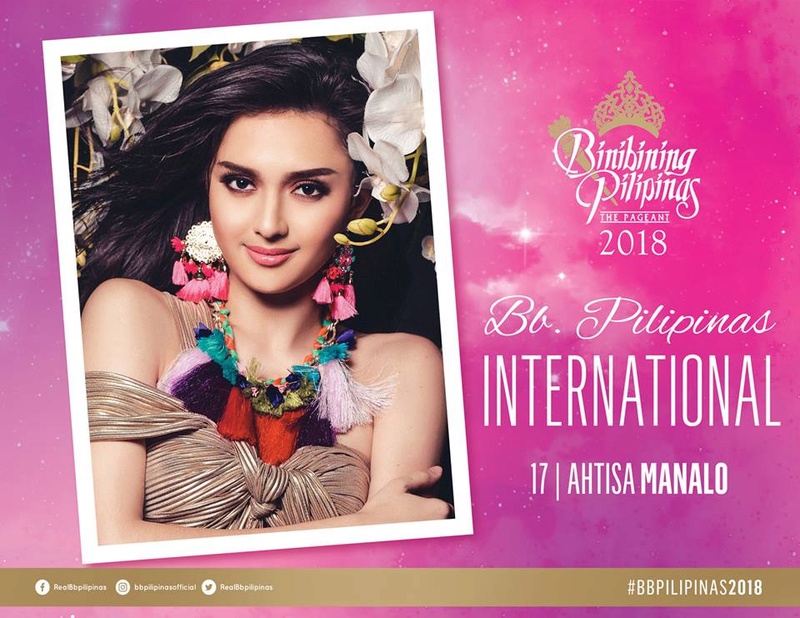 Bb. Pilipinas – Supranational 2018 – Jehza Mae Huelar
Bb. Pilipinas – Grand International 2018 – Eva Psychee Patalinjug
Bb. Pilipinas – Intercontinental 2018n – Karen Juanita Gallman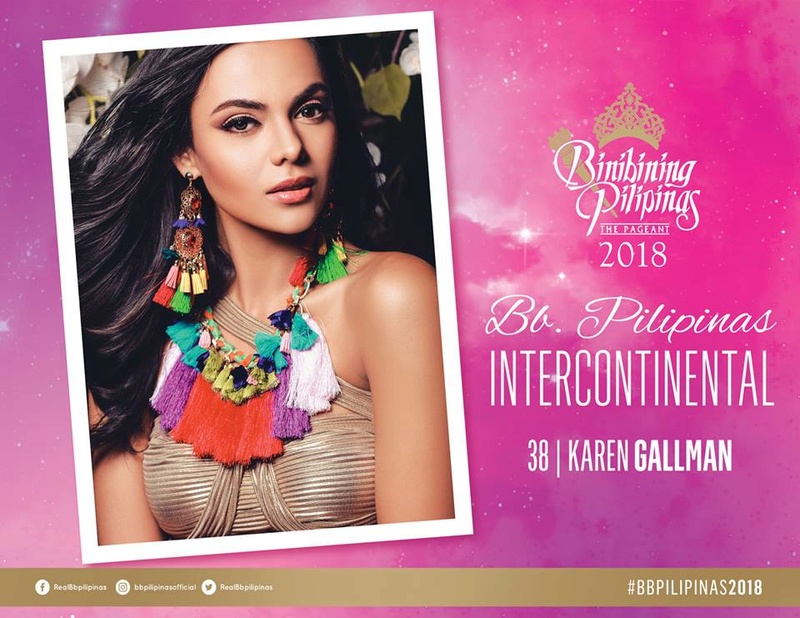 Bb. Pilipinas – Globe 2018 – Michele Gumabao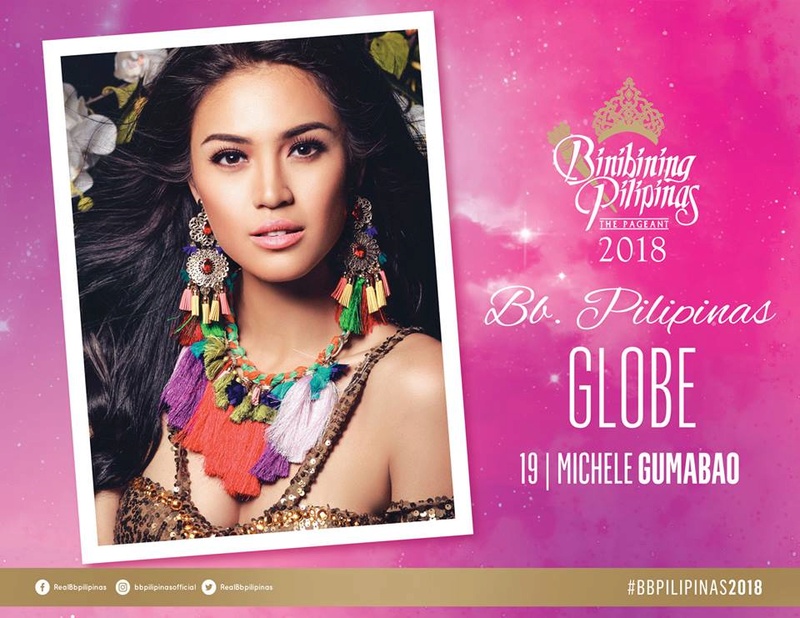 Bb. Pilipinas 2018 1st Runner-up – Vickie Marie Rushton
Bb. Pilipinas 2018 2nd Runner-up – Samantha Mae Bernardo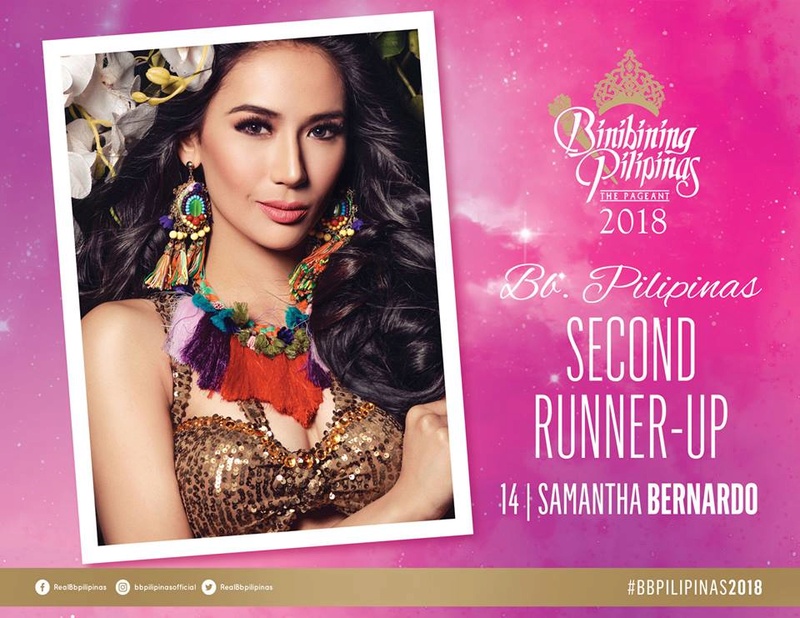 bonner

FORUM ADMINISTRATOR





Number of posts

: 110358


Age

: 33


Location

: Makati City, Philippines


Favourite Pageant

: Miss Universe
Bb Pilipinas


Favourite Miss

: Lalaine Bennett (Philippines Universe 1963 - From our Town Bayombong)
Rachel Smith(Miss USA 2007)
Angela Martini (Miss Albania Universe 2010)



Registration date :

2008-11-17






---
Permissions in this forum:
You
cannot
reply to topics in this forum