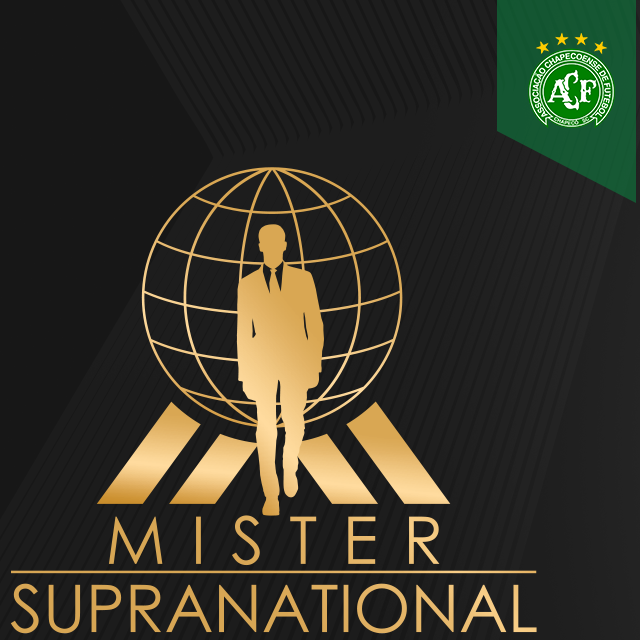 MISTER SUPRANATIONAL

Mister Supranational aims to revolutionize the industry, being the first competition of this nature to have a super modern and high fashion television production. 36 countries and territories competed on the contest's first edition, in Poland. The idea is to discover new talents for the modeling and television industries and to produce instant celebrities.Mister Supranational 2016 is Diego Garcy, of Mexico.

WORLD BEAUTY ASSOCIATION, S.A.

Based in Panama, the World Beauty Association (WBA), S.A. has developed a trusted reputation for over twenty years of experience in the event industry and beauty contests. WBA S.A. is the proud organizer of Mister and Miss Supranational beauty contests.President WBA: Mrs Tryny Marcela Yandar Lobon

NOWA SCENA

A global leader in event production, Polish-based Nowa Scena is the partner production house for the execution of the Miss Supranational TV Show, as well as its distribution and logistical support.President: Gerhard Parzutka von Lipinski.
_________________

bonner

FORUM ADMINISTRATOR





Number of posts

: 99744


Age

: 32


Location

: Makati City, Philippines


Favourite Pageant

: Miss Universe
Bb Pilipinas


Favourite Miss

: Lalaine Bennett (Philippines Universe 1963 - From our Town Bayombong)
Rachel Smith(Miss USA 2007)
Angela Martini (Miss Albania Universe 2010)



Registration date :

2008-11-17






Mister Supranational 2016
2016 December 3
Hala Sportowa Krynica-Zdrój, Krynica-Zdrój, POL
36 participants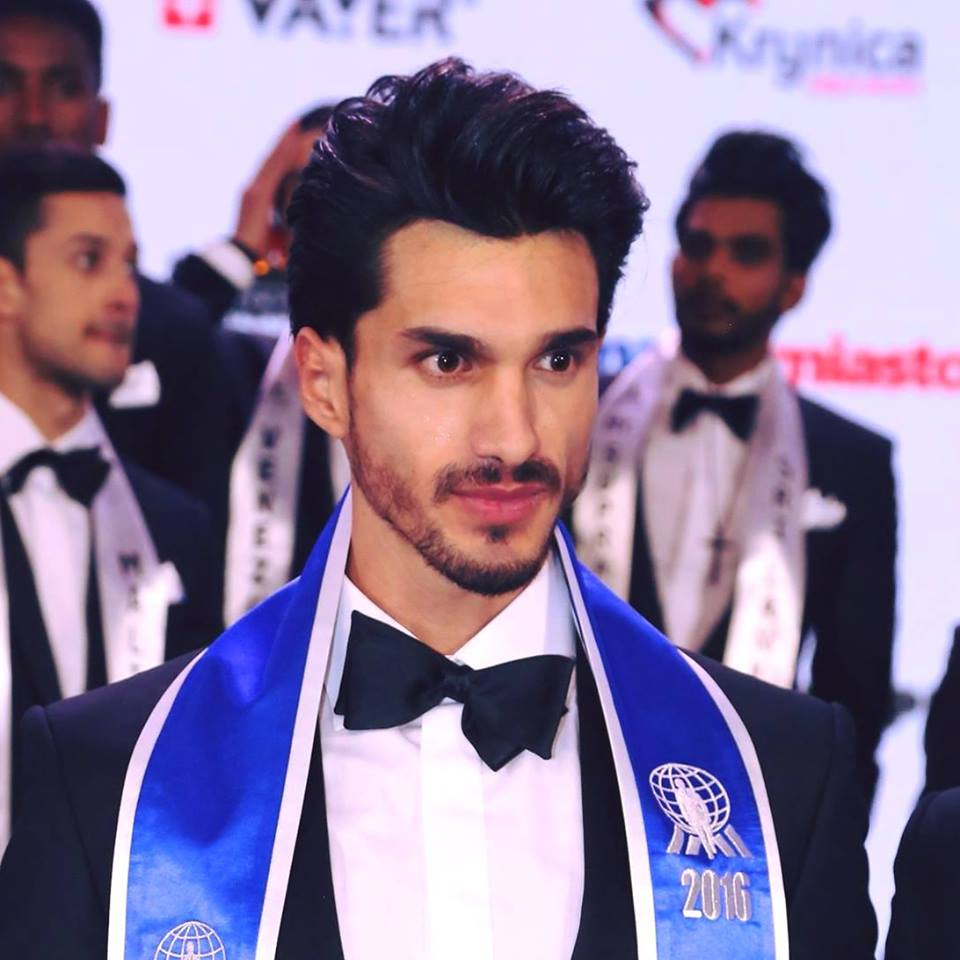 The first ever Mister Supranational was elected on December 3rd, in Poland, and he is Diego Garcy, from Mexico. Diego is 26 years old, 1.89 m-tall, hails from the city of Zapopan and has a BA in Business Administration. Currently he is an international model.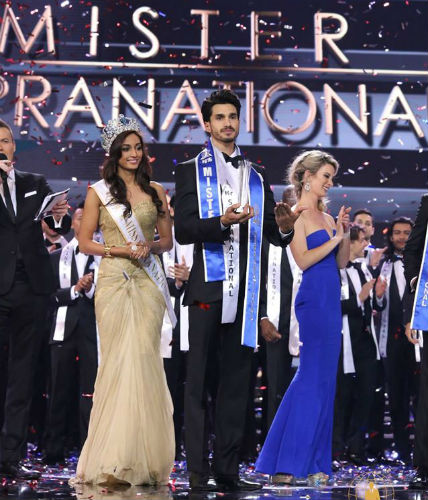 Diego Garcy of Mexico (center) and his court: Brazil (4th place), Belarus (2nd place), India (3rd place), and Romania (5th place).NOTE : 35 were at sashing ceremony, Hawaii & Ethiopia arrived afterwardNOTE : Peru was disqualified the day before the finals for poor behaviour

Results1  MEXICO - Diego Armando García Merino2  BELARUS - Sergey Bindalov3  INDIA - Jitesh Narush Thakur4  BRAZIL-  Bruno Scopel Vanin5  ROMANIA - Catalin Ionut Brinza (Universal Ambassador '16)

Top 106  VENEZUELA - Gustavo Alejandro Acevedo Nicolazzo7  DENMARK - Marcus Rosenberg Jørgensen8  POLAND - Rafał Jonkisz (Mr International '15, Top 10 Mr World '16)9  PANAMA - Michael Piggott10  JAPAN - Ricky Wakabayashi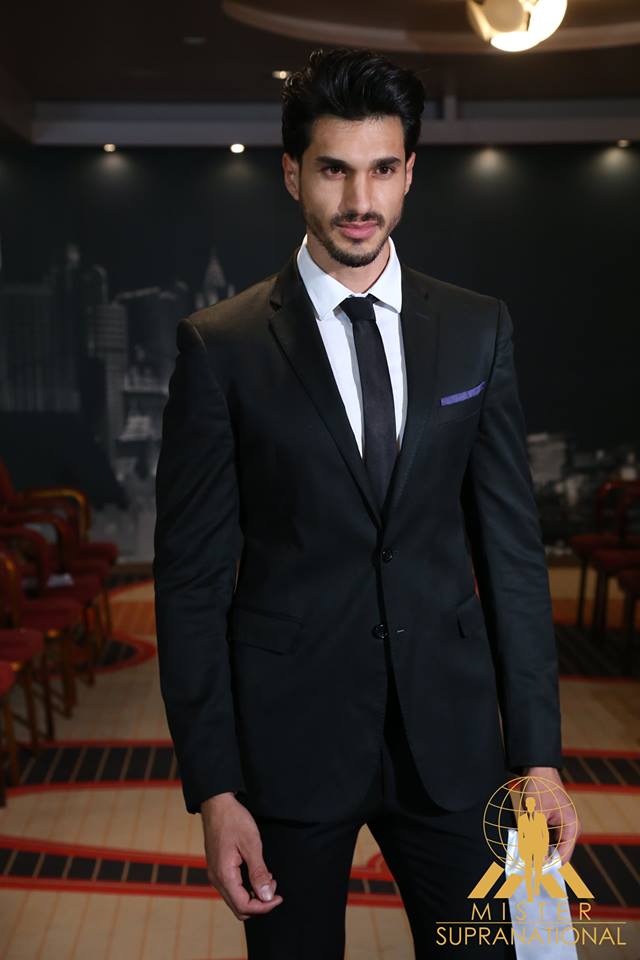 Top 2011  CZECH REPUBLIC - Jan Pultár12  MALTA - Neil Scerri13  BELGIUM - Johnny Gaspart14  SLOVAKIA - Karol Kotlár15  SPAIN - José de Haro Sánchez16  PUERTO RICO - Christian Trenche Ocasio (2nd RU Best Model '08)17  PHILIPPINES - Alberto Rodulfo Yap dela Serna18  FRANCE - Bryan Patrice Weber (4th RU Mr Global '15, Mr International '15)19  SWEDEN - Ali Ghafori20  UNITED KINGDOM - Rex NewmarkContinental winnersAMERICAS : MexicoEUROPE : BelarusASIA : IndiaAFRICA : EgyptOCEANIA : Hawaii

RemainderANGOLA - Osvaldo ChávesARGENTINA - Matias FerrarioCANADA - Matthew MaterialeCHINA - Gao Ximin (Top 16 Mr International '12)EGYPT - Mohamed Mustafá Medhat (Mr Universal Ambassador '16)ETHIOPIA - Yohannes Asfaw AbdisaFINLAND - Joonas LaajanenHAWAII - Fletcher BarnesNETHERLANDS - Rico MallePARAGUAY - Alexandre Kuhnen DoernerSRI LANKA - Shan FernandoSURINAME - Roché Raoul Kioe-A-SenSWITZERLAND - Fabio ReguengoTHAILAND - Phanupong WanthamatTRINIDAD AND TOBAGO - Adam Josef ModzelewskiU.S.A. - Walker BarnesDisqualified one day before the final for "poor behavior"PERU Álvaro Paz-López MonteroDid not competeDOMINICAN REPUBLIC  Casey SanchezAwardsMR. ELEGANCE : MexicoBEST PHYSIQUE : BelgiumPHOTO CHALLENGE : DenmarkMR. PHOTOGENIC : FranceTOP MODEL : IndiaMR. PERSONALITY : SlovakiaMR. FRIENDSHIP : SwedenOther awardsMR. INTERNET : PhilippinesMR. MOBSTAR (Internet voting) : PolandDRIFT CHALLENGE: Trinidad and TobagoSUPRA CHEF CHALLENGE: UKSWIMMING CHALLENGE: PolandOVERALL CHALLENGE : (tied) UK & Puerto Rico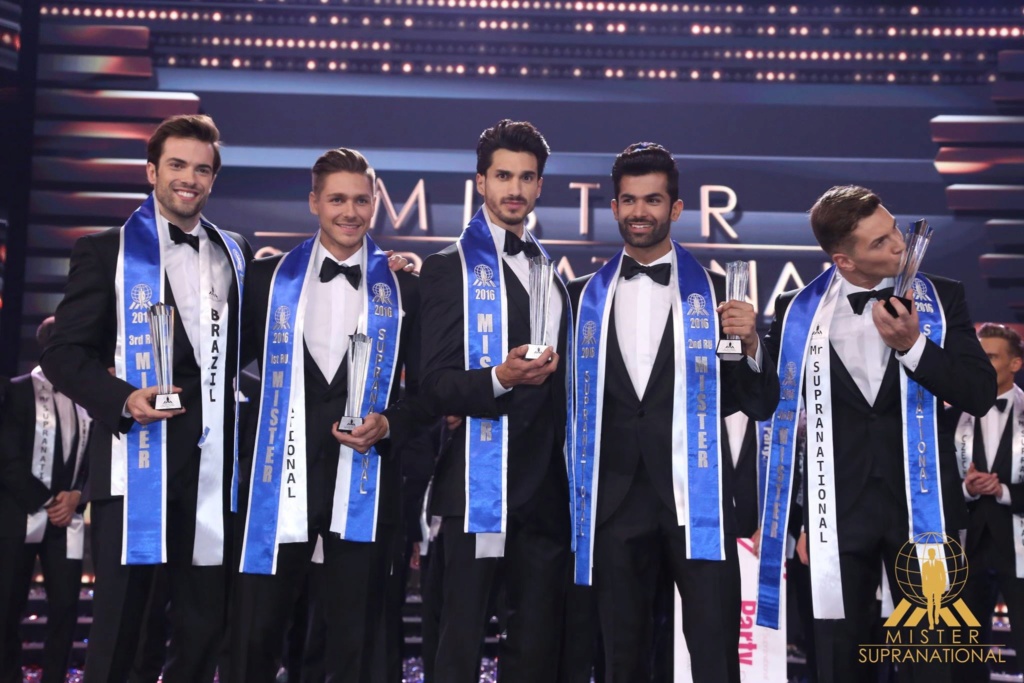 _________________

bonner

FORUM ADMINISTRATOR





Number of posts

: 99744


Age

: 32


Location

: Makati City, Philippines


Favourite Pageant

: Miss Universe
Bb Pilipinas


Favourite Miss

: Lalaine Bennett (Philippines Universe 1963 - From our Town Bayombong)
Rachel Smith(Miss USA 2007)
Angela Martini (Miss Albania Universe 2010)



Registration date :

2008-11-17






Mister Supranational 2017
2017 December 2
Hala Sportowa Krynica-Zdrój, Krynica-Zdrój POL
34 participants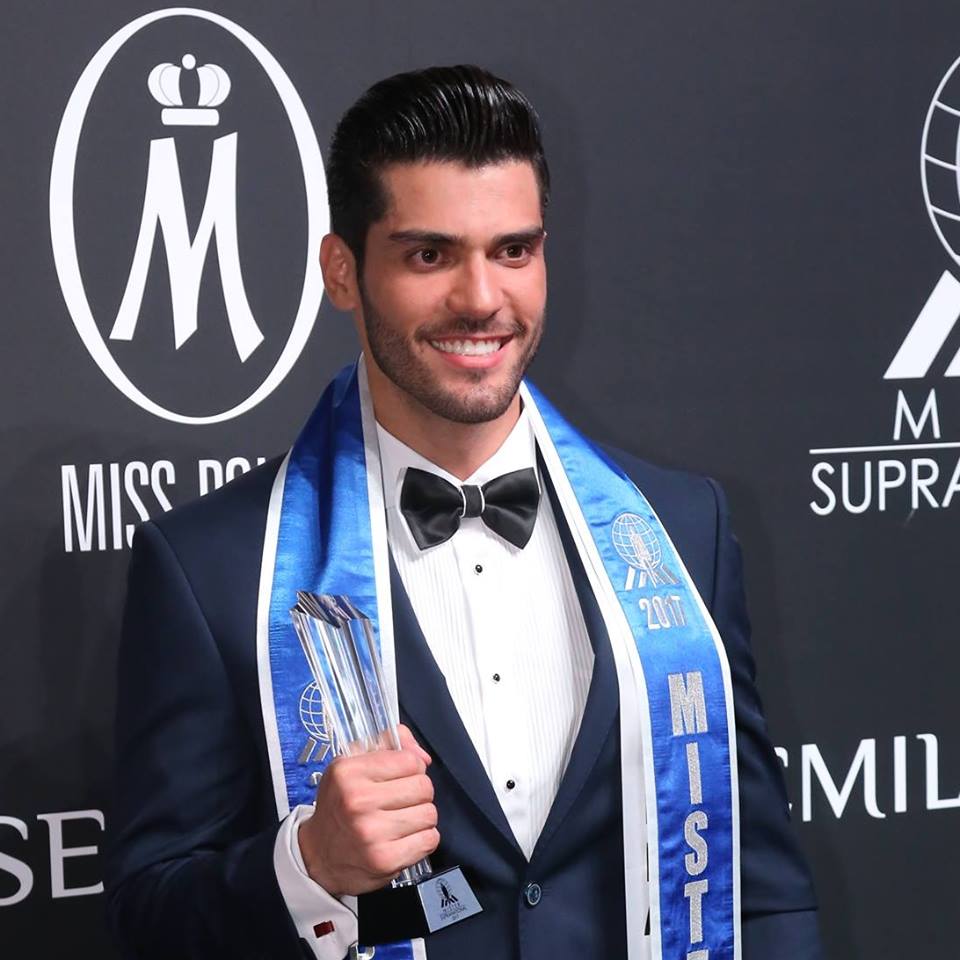 Mexico (4th RU), Brazil (2nd RU), Venezuela (winner), Sovak Republic (3rd RU), Spain (1st RU)



Results
1  VENEZUELA  Gabriel José Correa Guzmán
2  SPAIN  Alejandro Cifo Capilla
3  BRAZIL  Matheus Richter Song
4  SLOVAK REPUBLIC  Michal Gajdošech (International '13)
5  MEXICO  Héctor Javier Parga Frías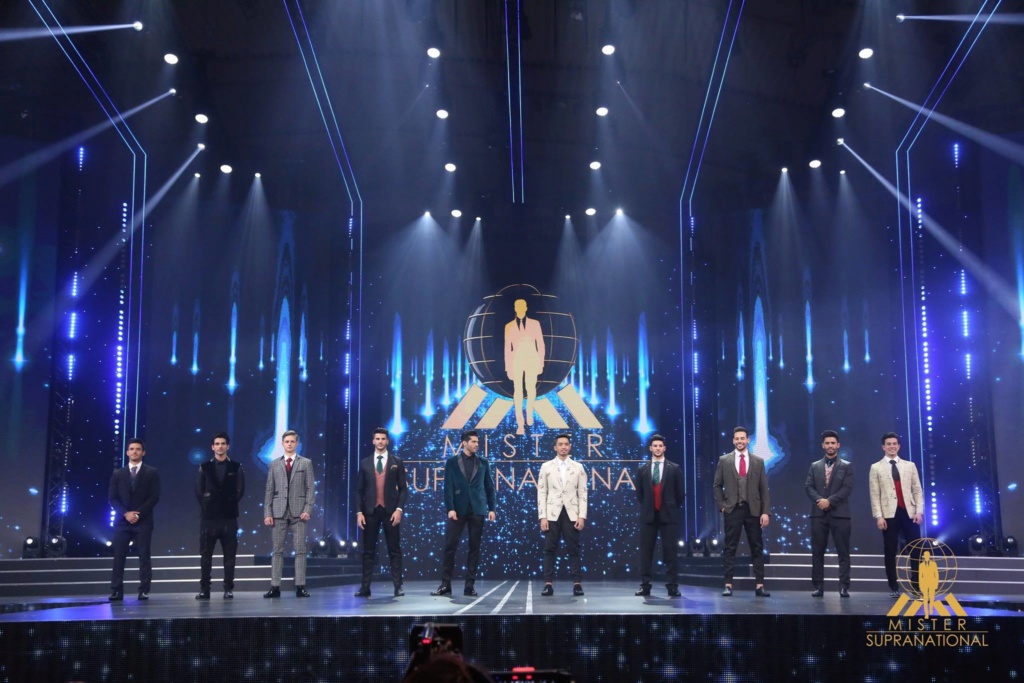 Top 10
6  MALTA  Justin Axiak
7  INDIA  Altamash Faraz
8  U.S.A.  Cody Ondrick
9  POLAND  Jan Dratwicki (International '16)
10  INDONESIA  Gilbert Pangalila (Universal Ambassador '17) [VODI fan vote]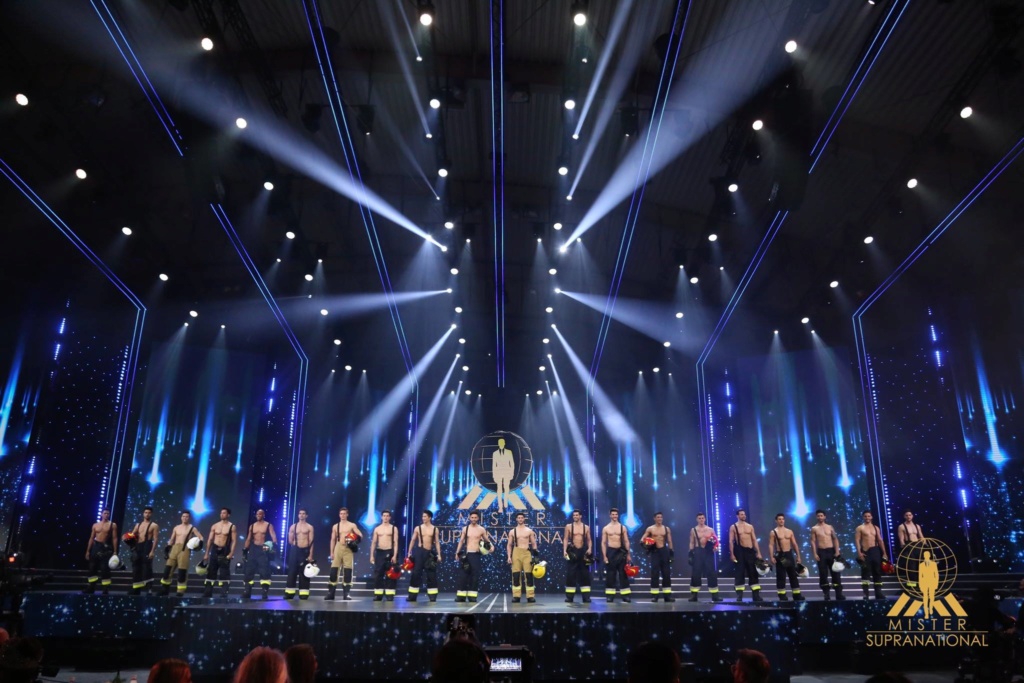 Top 20
11 CHILE  Alfonso José Bernal Palacios
12  ROMANIA  Mihai Pintilie
13  PUERTO RICO  Alexander Rivera Ortiz
14  JAPAN  Takanori Uekusa
15  SURINAME  Arthur Da Nobrega Semoedi
16  PANAMA  Alan Valdés González
17  AFGHANISTAN  Hamid Noor (Grand '17 as Germany)
18  MYANMAR  Htoo Ant Lwin (Man of the Year '16)
19  NETHERLANDS  Ferdi Çağlayan
20  PHILIPPINES  Yves Campos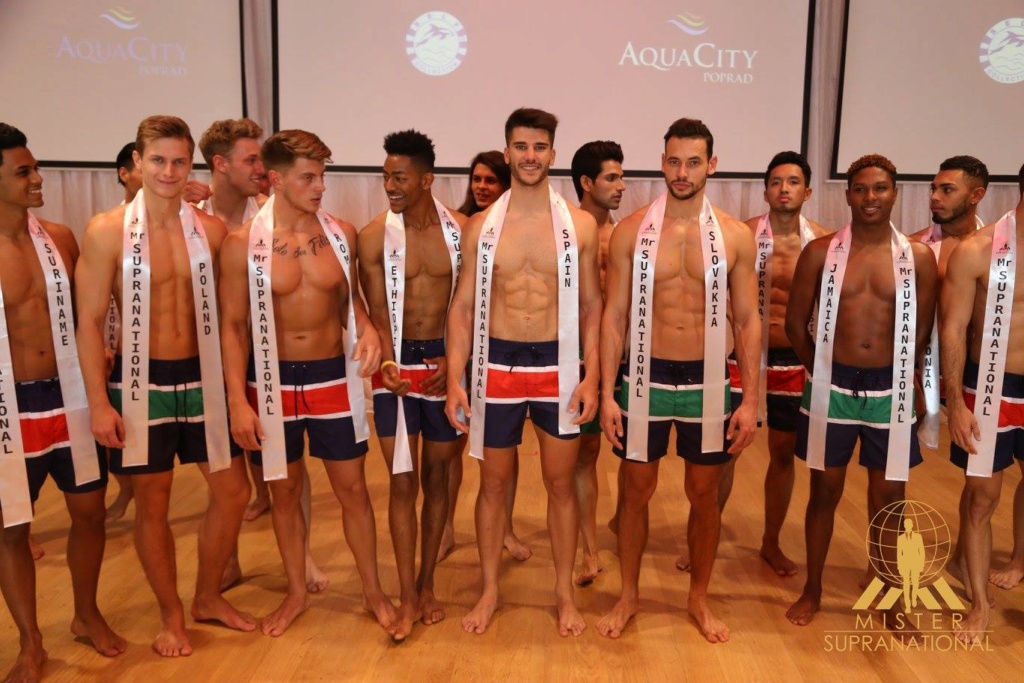 Continental winners
Africa : ETHIOPIA
Americas : USA
Asia & Oceania : INDIA
Europe : MALTA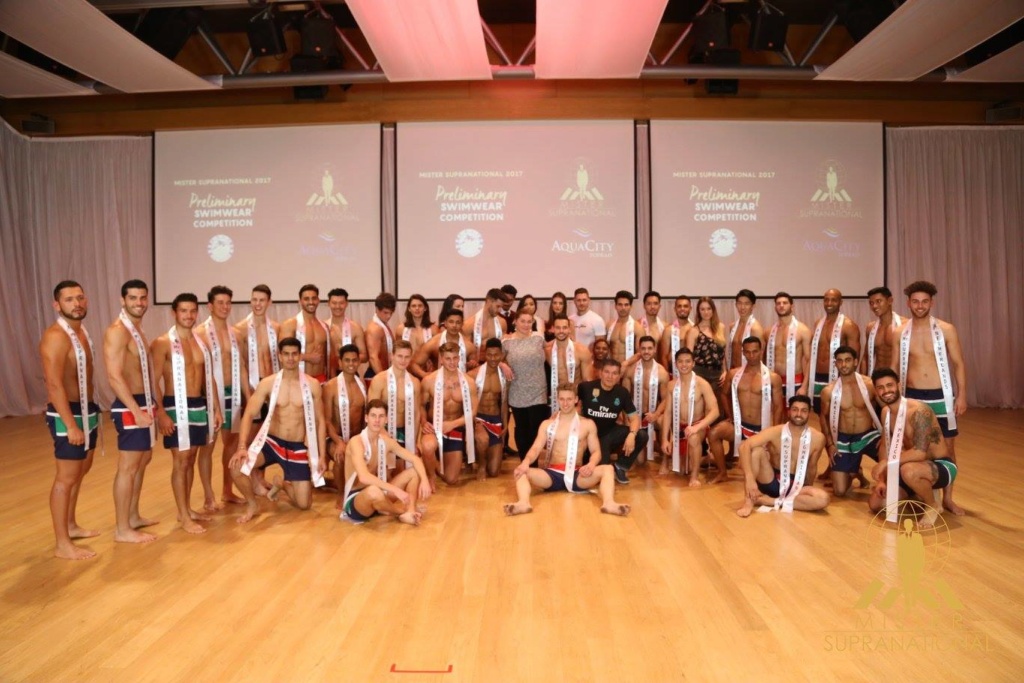 Remainder
BELARUS  Dzianis Alkhovik
BOLIVIA  Rubén Dario Herrera Ibáñez (International '18)
CANADA  Guillaume Carignan
CHINA  Liu Haitao
CZECH REPUBLIC  David  Jaček
ETHIOPIA  Tewolde Kiflom
GERMANY  Jan Laskowski
GIBRALTAR  Felix Bothén (Man of the World '17)
JAMAICA  Franz Christie
NEW CALEDONIA  Bruno Charley Gislain
PAKISTAN  Raffay Khan
PERU  Franklin Joel Balarezo Ruiz
SRI LANKA  Jason 'Pathum' Subasinghe (winner of Global Teen '16)
THAILAND  Aratch Wittayakorn

Replaced
CZECH REPUBLIC  Roman Hein
Did not compete (due to visa problems)
NEPAL  Shekhar Bista
SIERRA LEONE  Ibrahim Mansaray
SUDAN  Faris Usama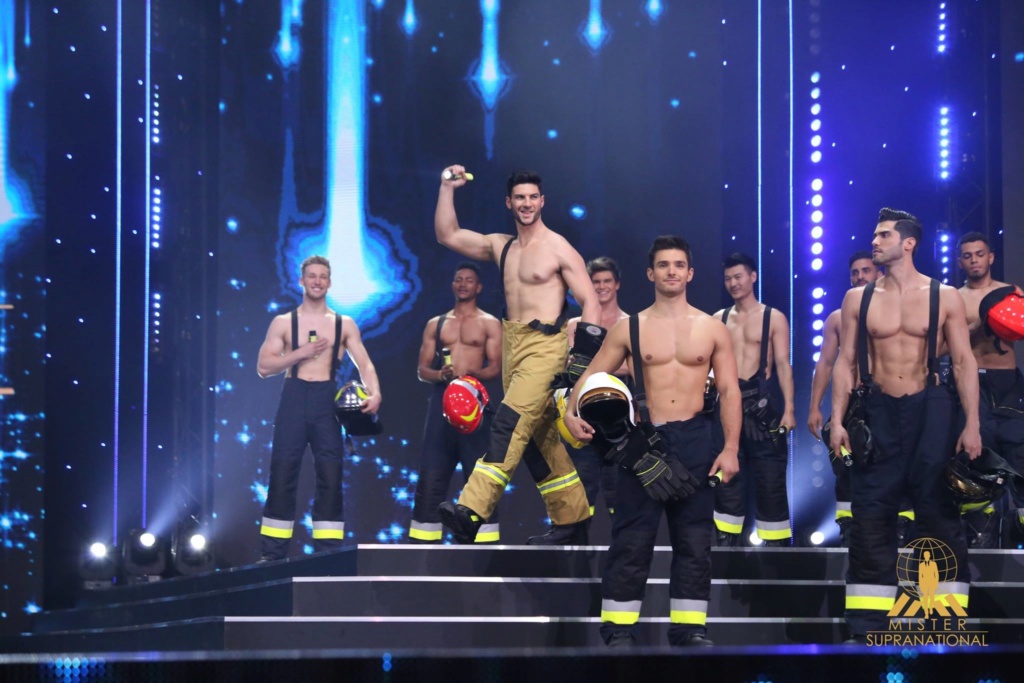 Awards
Friendship : BOLIVIA
Photogenic : SPAIN
Top Model : BRAZIL
Best Body : SLOVAKIA
Elegance :  INDIA
Social Media : ROMANIA
Personality : CANADA
VODI vote : INDONESIA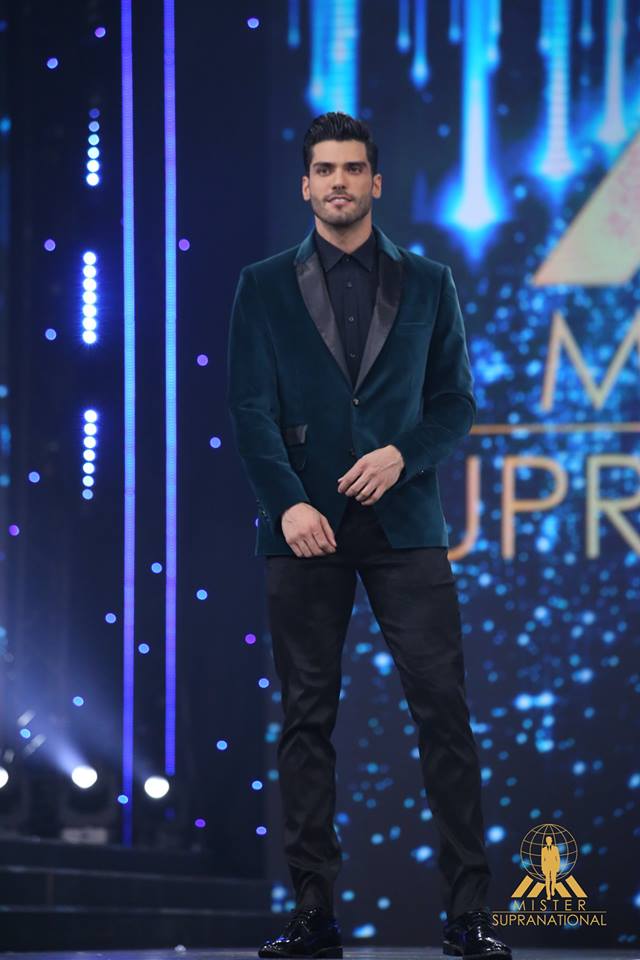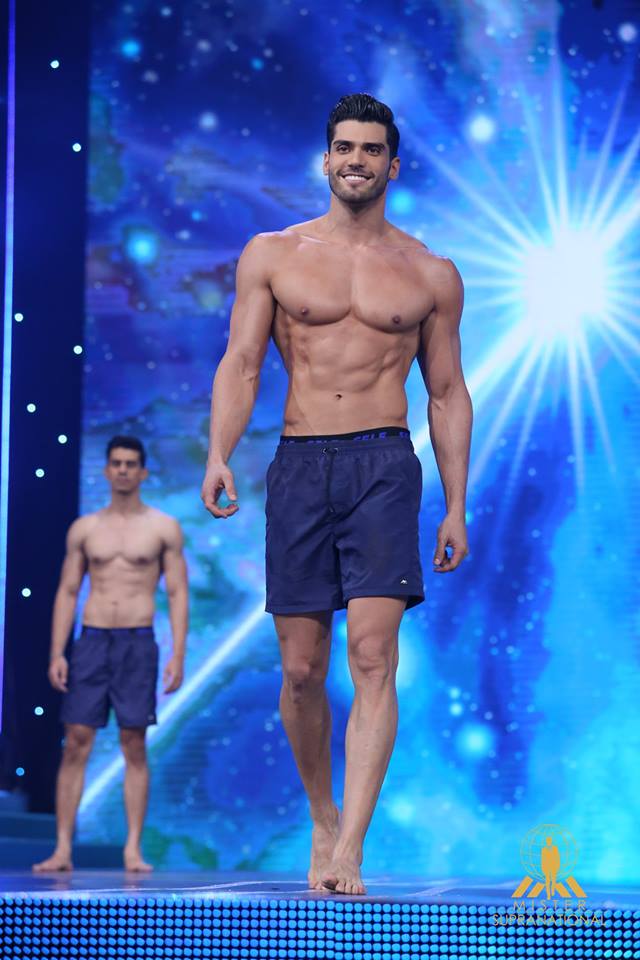 _________________

bonner

FORUM ADMINISTRATOR





Number of posts

: 99744


Age

: 32


Location

: Makati City, Philippines


Favourite Pageant

: Miss Universe
Bb Pilipinas


Favourite Miss

: Lalaine Bennett (Philippines Universe 1963 - From our Town Bayombong)
Rachel Smith(Miss USA 2007)
Angela Martini (Miss Albania Universe 2010)



Registration date :

2008-11-17






MISTER SUPRANATIONAL 2018
2018 December 8
Hala Sportowa Krynica-Zdrój, Krynica-Zdrój, POL
39 participants
NOTE 38 were present at the sashing ceremony Nov. 26.  Equatorial Guinea arrived Nov. 30)

ResultsWinner: INDIA - Prathamesh Maulingkar
1st Runner Up:  POLAND - Jakub Kucner (Global '18)
2nd Runner Up:  BRAZIL - Samuel Costa
3rd Runner Up: THAILAND - Kevin Dasom
4th Runner Up:  NETHERLANDS - Ennio Giosuè Fafieanie



Top 10
6  SLOVAK REPUBLIC - Ján Palko
7  DOMINICAN REPUBLIC - Daniel Sicheneder Rodríguez
8  SRI LANKA - Tymeron Huban Carvalho
9  U.S.A. - Nicholas Kotselas
10  NORWAY - Mathias Duma




Top 20
11  SPAIN - Fabián Pérez Fernández (Global '18)
12  PANAMA - Ryan Stone
13  CZECH REPUBLIC - Jakub Kochta
14  CURACAO - Quinton Martina (Men Universe Model '16, Universal Ambassador '18)
15  MEXICO - Alejandro Garcia Torres (Model International '16)
16 PUERTO RICO - José Alfredo Galarza Vargas (winner Tourism International '15)
17  MALTA - Benoît Bartolo
18  PHILIPPINES - Marco Poli
19  RUSSIA - Mikhail Baranov
20  MYANMAR - Ellis Lwin



Continental winners were awarded to those who did not reach Top 5
Africa - Togo
Americas - U.S.A.
Asia - Sri Lanka
Caribbean - Dominican Republic
Europe - Slovak Republic
Oceania - New Caledonia



Remainder
ARGENTINA - Jorge Piantelli
BOLIVIA - Ariel Jhonny Molina Mier
CANADA - Aaron Mangat
CHINA - Cheng Long (Tourism World '18)
COLOMBIA - Andres Mejia Vallejo
EQUATORIAL GUINEA - Jesus Dikuasa
FRANCE - François-Xavier Herard (Universal Ambassador '17 as Martinique)
HAWAII - Jona Kamoku
INDONESIA - Ferdinandus Gandhi Fernando Hasmana
IRELAND - Emmette Dillon
JAPAN - Jiro Matsumoto
KOREA - Park Cheong-woo
NEW CALEDONIA - Kevin Aubry
PERU - Andres Vilchez
ROMANIA - Emil Popa
SURINAME - Angelo Wijngaarde
TOGO - Kwassy Adjamah
TRINIDAD & TOBAGO - Suveer Ramsook
VENEZUELA - Jeudiel Enrique Condado Griman

Did not compete
ETHIOPIA - Yared Goitom

Special awards
Top Model - Spain
Personality - Togo
Photogenic - Malta
Best Body - India
Friendship - Colombia
Best in Evening Wear - Norway
Thermaleo - Netherlands
Sports - Puerto Rico (automatic advance to Top 20)
Popularity - Myanmar
Best Social Media - Poland
Talent - (not availabie)

Last edited by bonner on Mon Aug 23, 2021 3:15 pm; edited 1 time in total
_________________

bonner

FORUM ADMINISTRATOR





Number of posts

: 99744


Age

: 32


Location

: Makati City, Philippines


Favourite Pageant

: Miss Universe
Bb Pilipinas


Favourite Miss

: Lalaine Bennett (Philippines Universe 1963 - From our Town Bayombong)
Rachel Smith(Miss USA 2007)
Angela Martini (Miss Albania Universe 2010)



Registration date :

2008-11-17






Mister Supranational 2019
2019 December 7
Międzynarodowe Centrum Kongresowe, Katowice POL
40 participants


NOTE 38 were at the sashing ceremony Nov. 26); Peru arrived the next day, Ethiopia later

(Results)
1 - U.S.A. - Nate Crnkovich
2 - BRAZIL - Ítalo Cerqueira Rodrigues
3 - PERU - Alonso Martínez Vivanco
4 - POLAND - Tomasz Zarzycki (International '18)
5 - VENEZUELA - Leonardo Carrero Contreras



(Top 10)
6 - CZECH REPUBLIC - Jan Solfronk
7 - DOMINICAN REPUBLIC - Ángel Enrique Holguín Medina
8 - ECUADOR - Nicolás Esteban Asanza Garrido
9 - INDIA - Varun Verma
10 - SOUTH AFRICA - Rushil Jina (entered Top 10 as voted by the fans)

(Top 20)
11 - CANADA - Nathan Johnson
12 - UNITED KINGDOM - Walter Chahwanda
13 - INDONESIA - Enrique Dustin
14 - CHILE - Mario Luciano Irazzoky Peña
15 - THAILAND - "Tong" Chanchai Rungpaisit
16 - VIETNAM - Trần Mạnh Khang
17 - MALTA - Yosef Vassallo
18 - LAOS - Singkham Phommasone
19 - PHILIPPINES - Denver Hernandez (Top 15 Men Universe Model '17)
20 - EQUATORIAL GUINEA - Diosdado Sakarof Mangue

(2019 Continental winners were awarded to those who did not reach Top 5)
Africa - South Africa
Americas - Ecuador
Asia - India
Caribbean - Dominican Republic
Europe - Czech Republic
Oceania - New Caledonia

(Awards)
Top Model - U.S.A.
Friendship - Mexico
Photogenic - Poland
Best Body - Netherlands

(Remainder)
ALGERIA - Amar Mohammedi
BOLIVIA - Wilder Suárez Ortiz
COLOMBIA - Jhon Jairo Marrugo Rodríguez
ETHIOPIA - Yohanes Alemu Kifetew
FRANCE - Mavryck Clavel
JAMAICA - Rayon Davis
JAPAN - Reino Shimamura
KENYA - Priyan Solanki
KOREA - Woo Chang-wook
MEXICO - Gustavo Dousset Ayala
MOLDOVA - Giovanni Cretu
MONTENEGRO - Stefan Vukmanović
NETHERLANDS - Mitch Hart
NEW CALEDONIA - Manutea Benet-Brissonet
PUERTO RICO - Héctor Manuel Rodríguez Vázquez
ROMANIA - Bogdan Nicolae Brînzoi
SLOVAK REPUBLIC - Tomáš Kucuk
SPAIN - Manuel Quesada Soto
SURINAME - Artly Voorburg
SWITZERLAND - Rafael Caria

(Did not compete)
BANGLADESH - Mehedi Hasan
PANAMA - Omar Collado
SIERRA LEONE - Michael Bonny Bassey
SRI LANKA - Jake Elwood John Senaratne (International '15, World '16)

(Replacement)
ECUADOR - Wilson Cárdenas


_________________

bonner

FORUM ADMINISTRATOR





Number of posts

: 99744


Age

: 32


Location

: Makati City, Philippines


Favourite Pageant

: Miss Universe
Bb Pilipinas


Favourite Miss

: Lalaine Bennett (Philippines Universe 1963 - From our Town Bayombong)
Rachel Smith(Miss USA 2007)
Angela Martini (Miss Albania Universe 2010)



Registration date :

2008-11-17






No Pageant held in 2020 due to the Pandemic
_________________

bonner

FORUM ADMINISTRATOR





Number of posts

: 99744


Age

: 32


Location

: Makati City, Philippines


Favourite Pageant

: Miss Universe
Bb Pilipinas


Favourite Miss

: Lalaine Bennett (Philippines Universe 1963 - From our Town Bayombong)
Rachel Smith(Miss USA 2007)
Angela Martini (Miss Albania Universe 2010)



Registration date :

2008-11-17






Mister Supranational 2021
22 August 2021
Strzelecki Park Amphitheater, Nowy Sącz, Małopolska, Poland
34 Participants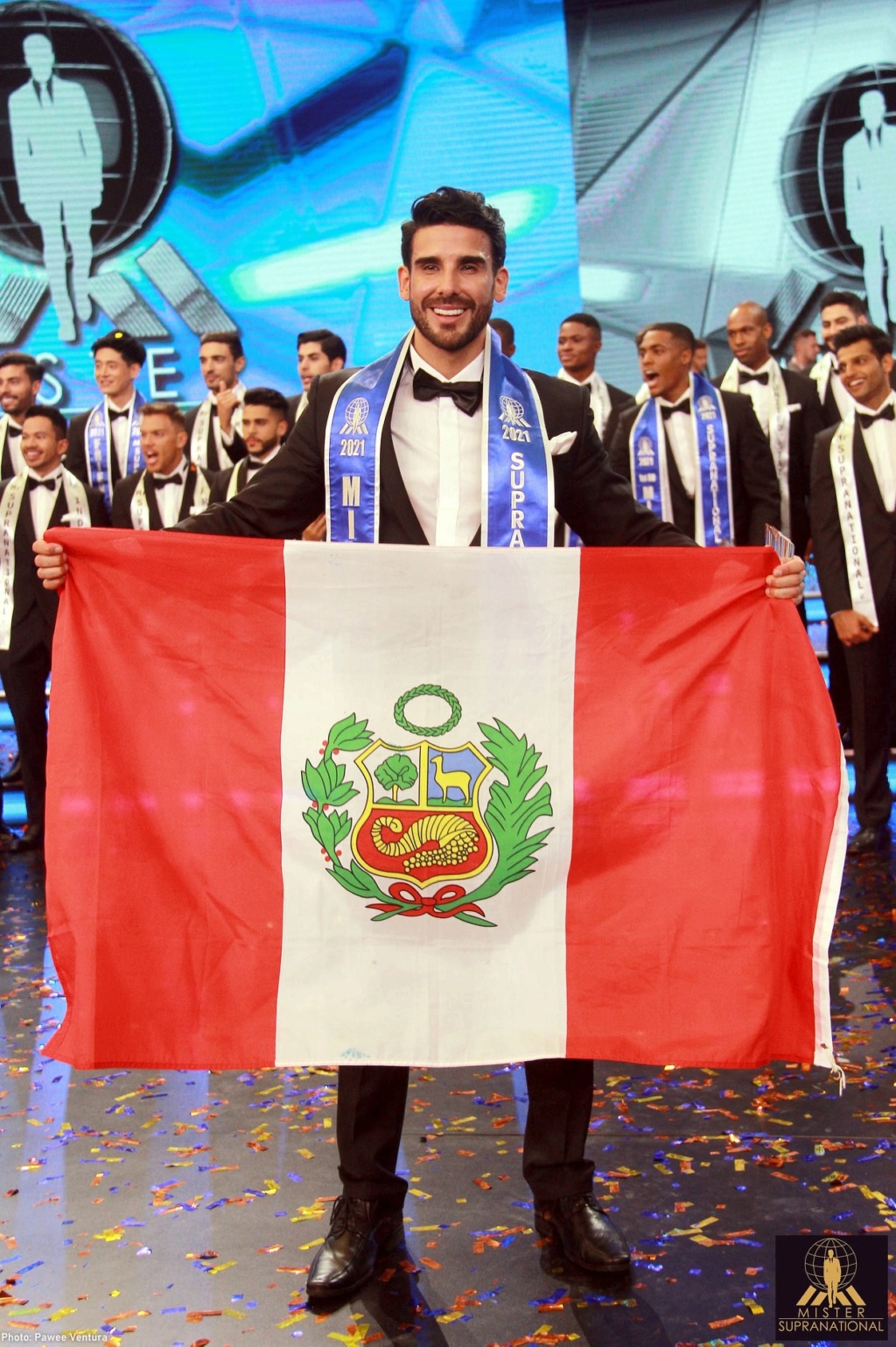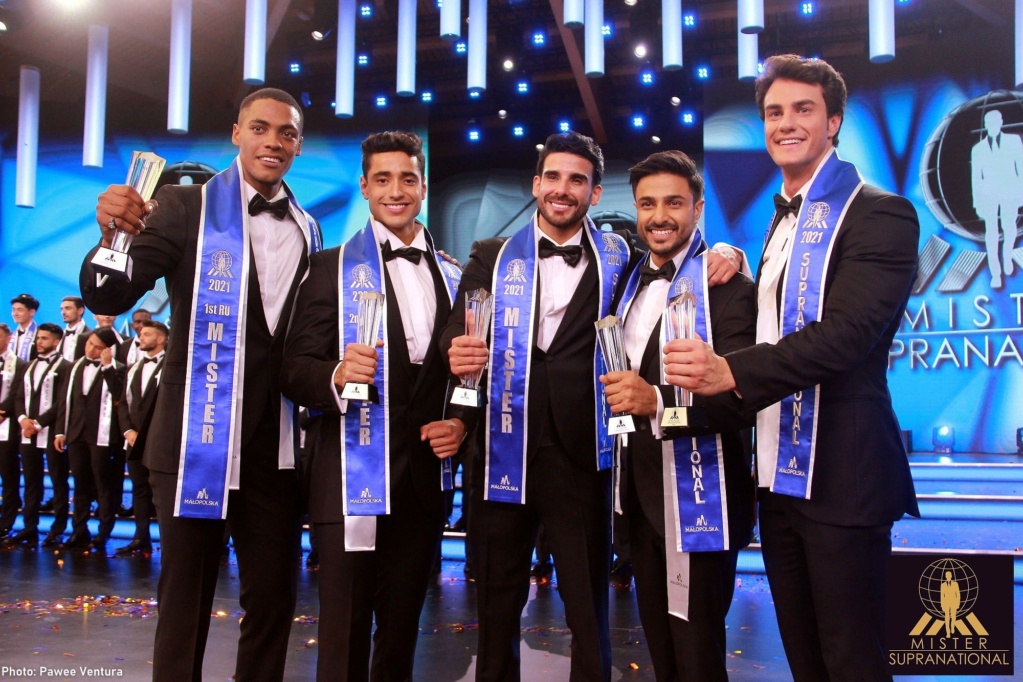 Mister Supranational 2021: Peru – Varo Vargas
1st Runner-Up: Togo – Abdel Kacem Tefridj
2nd Runner-Up: Venezuela - William Badell
3rd Runner-Up: Nepal – Santosh Upadhyaya
4th Runner-Up: Spain – Lucas Muñoz-Alonso



Top 10

Dominican Republic – Ivan Oleaga
India – Rahul Rajasekharan
Indonesia – Okky Alparessi
Malta – Raffael Fiedler
Mexico – Gustavo Rosas



Top 20

Aruba – Derrel Lampe
Colombia – Manuel Molano
Czech Republic – David Kremen
France – Fabien Mounoussamy
Greece – Spyros Nikolaidis
Haiti – Theodore Bien-Aime
Philippines – John Adajar
Poland – Daniel Borzewski
Puerto Rico – Francisco Vergara
Slovakia – Marek Jastráb


---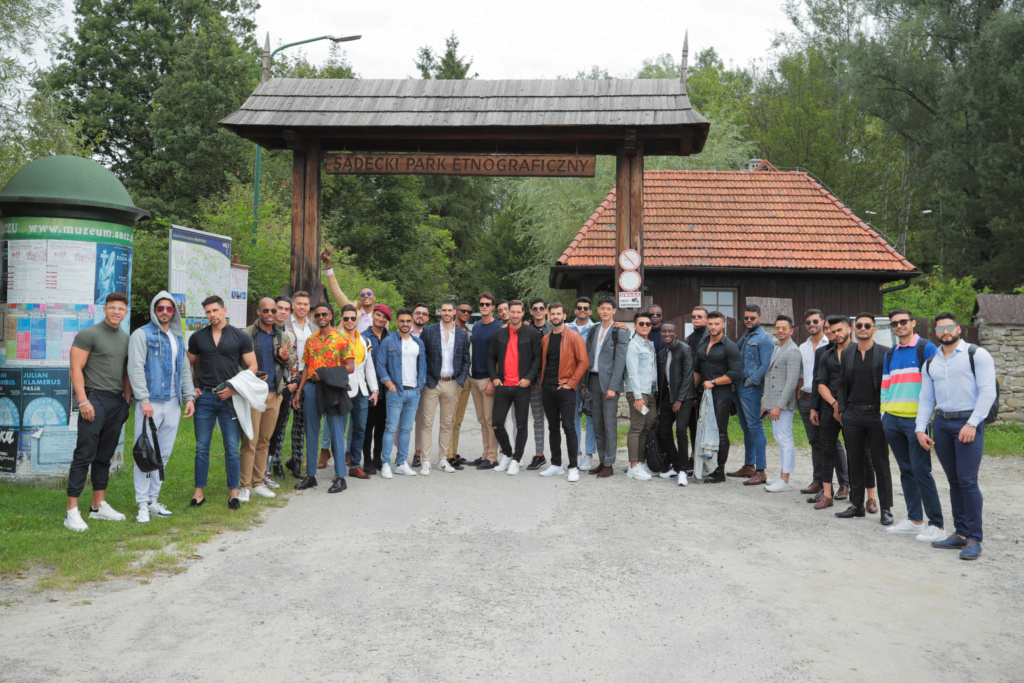 Continental Titleholders
Africa: Sierra Leone – Abu Bakarr Bakish Tarawalie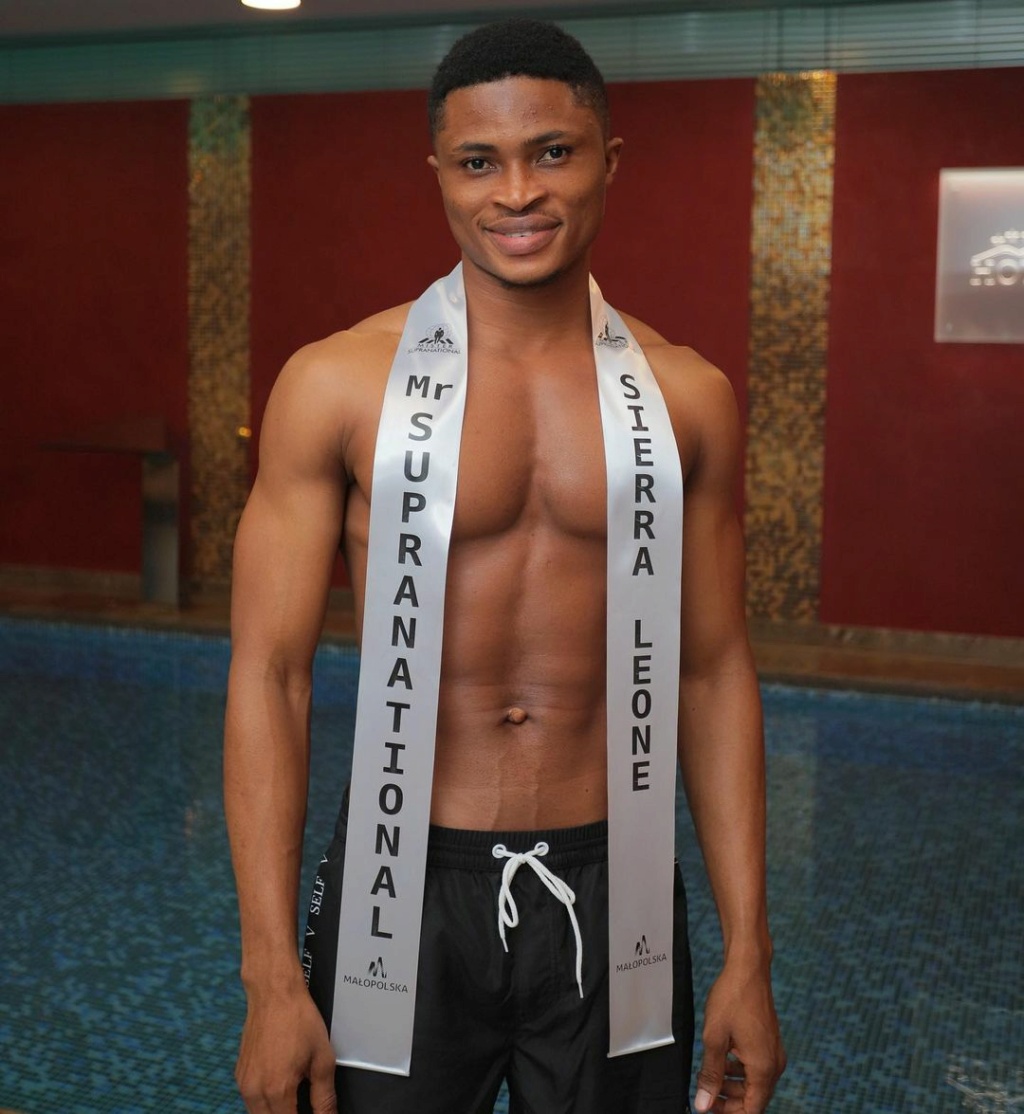 Americas: Mexico - Gustavo Adolfo Rosas González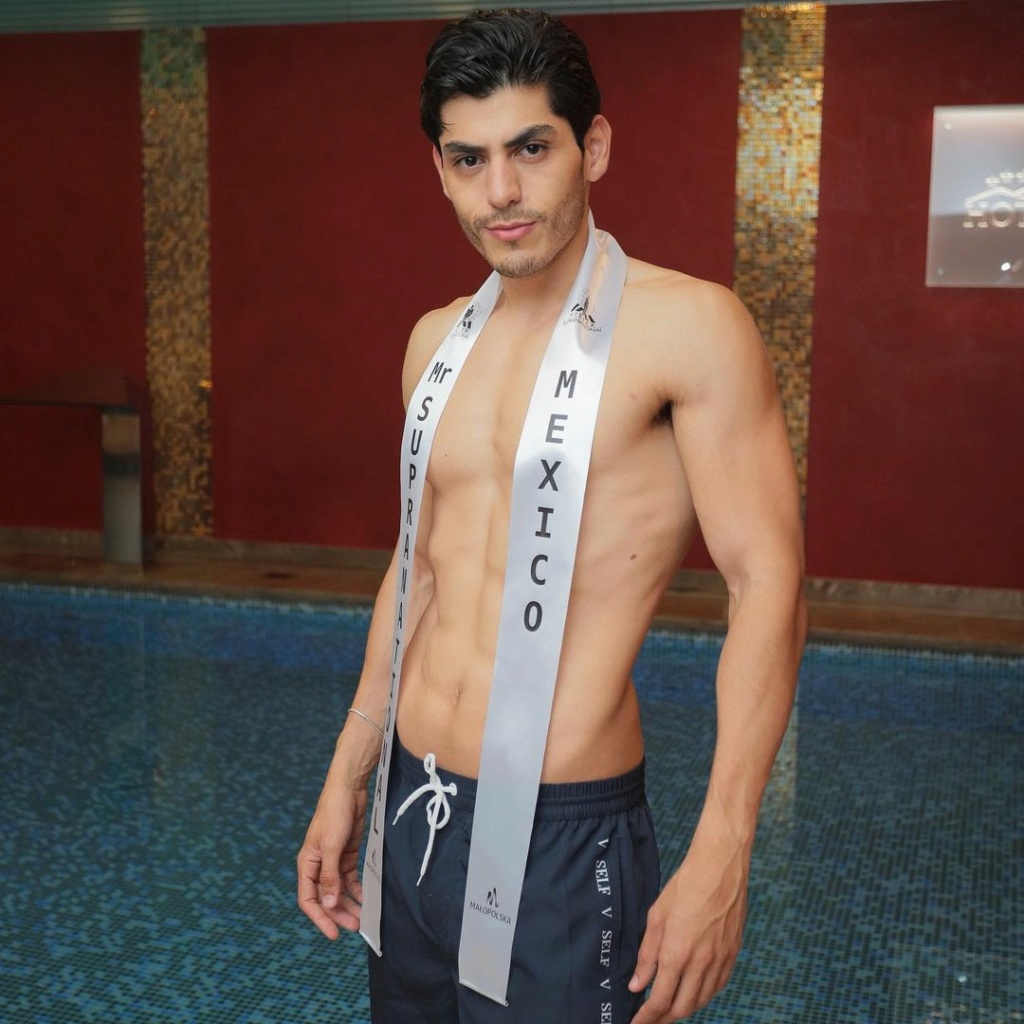 Asia India – Rahul Rajasekharan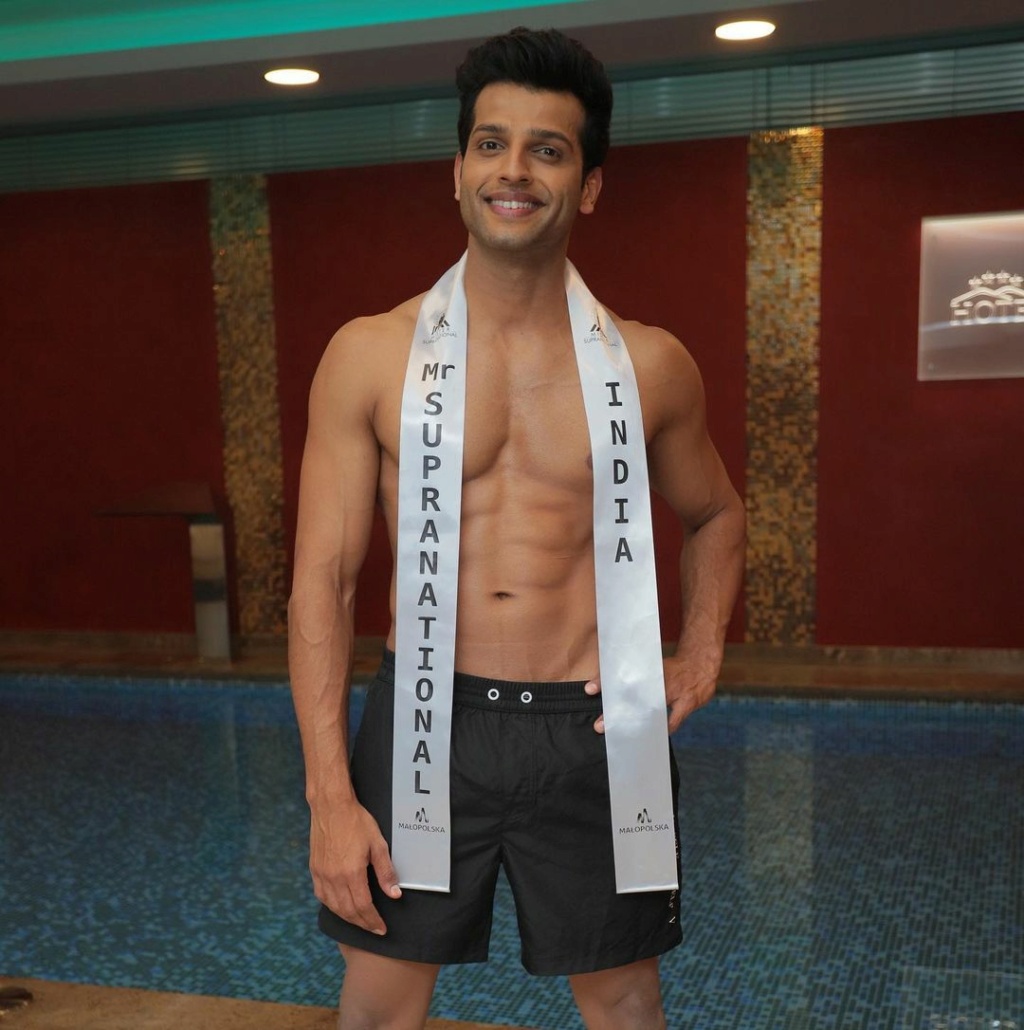 Caribbean: Dominican Republic – Ivan Oleaga


Europe: Malta – Raffael Fiedler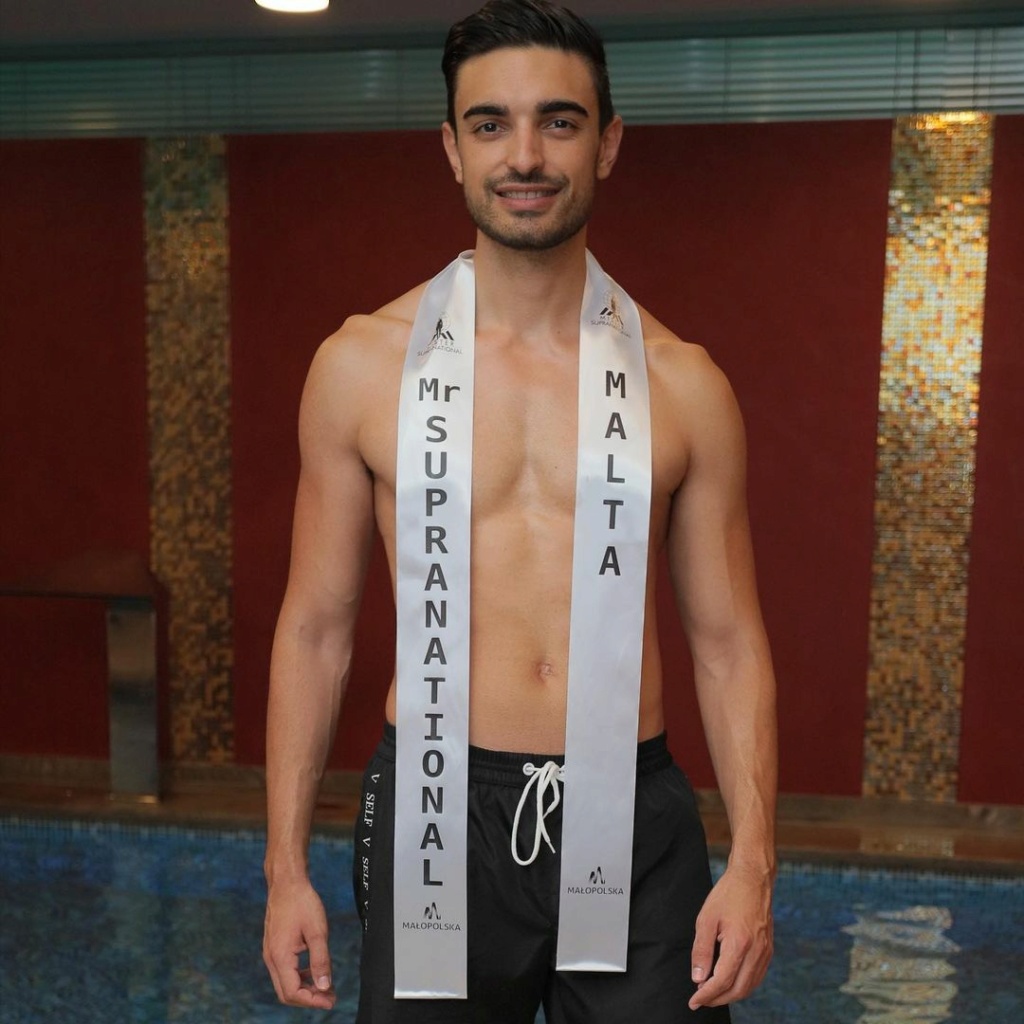 ---

Special awards

Mister Hotel Beskid: Indonesia – Okky Alparessi
Mister Gold Spa: Malta – Raffael Fiedler
Mister Friendship: Korea – Cho Young-Dong
Mister Fitness: USA – Felix Martin
Mister Personality: Aruba - Derrel Lampe
Mister Photogenic: Venezuela - William Badell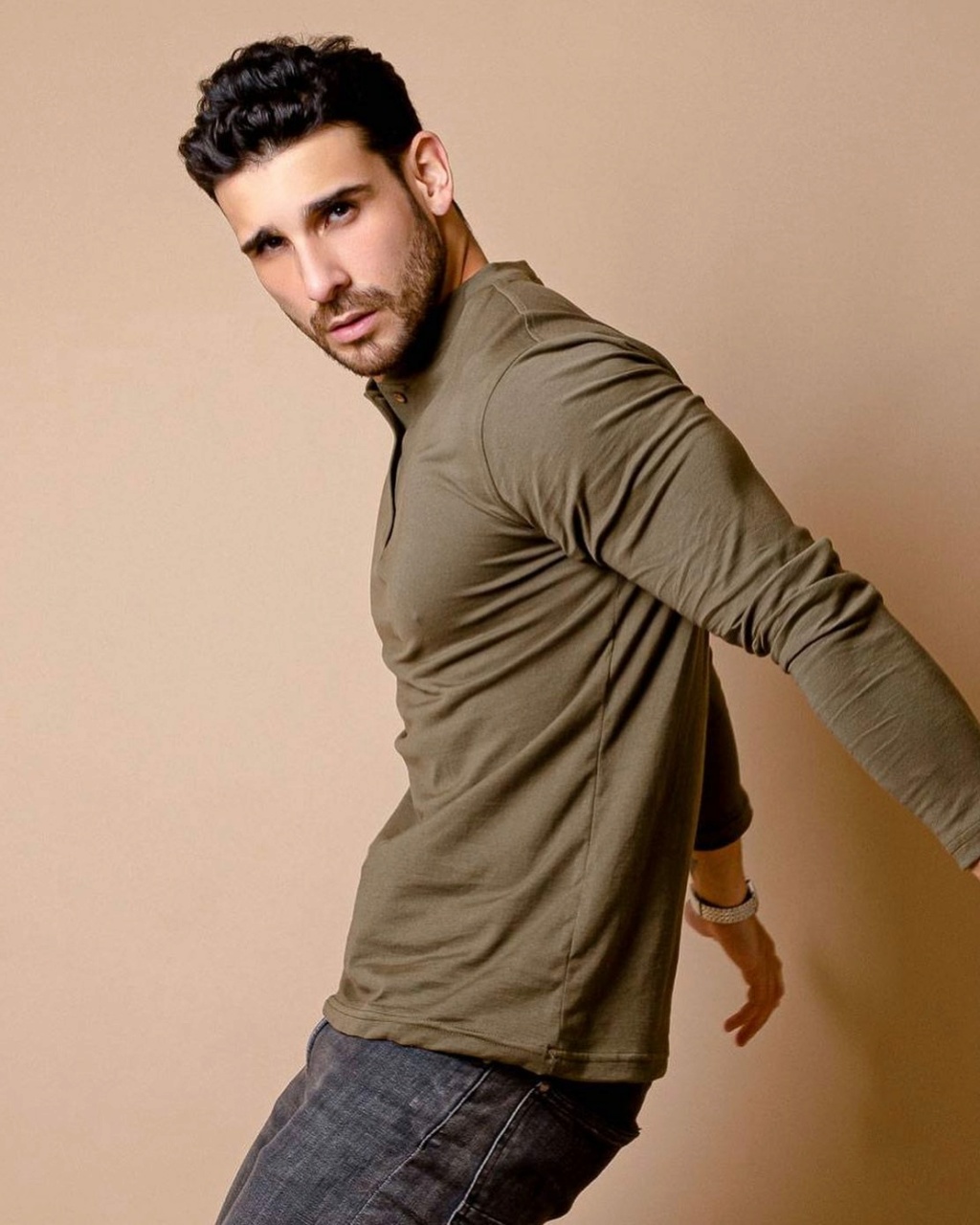 _________________

bonner

FORUM ADMINISTRATOR





Number of posts

: 99744


Age

: 32


Location

: Makati City, Philippines


Favourite Pageant

: Miss Universe
Bb Pilipinas


Favourite Miss

: Lalaine Bennett (Philippines Universe 1963 - From our Town Bayombong)
Rachel Smith(Miss USA 2007)
Angela Martini (Miss Albania Universe 2010)



Registration date :

2008-11-17






Mister Supranational 2022
Date: July 16, 2022
Venue: Strzelecki Park Amphitheater, Nowy Sącz, Małopolska, Poland
Entrants: 34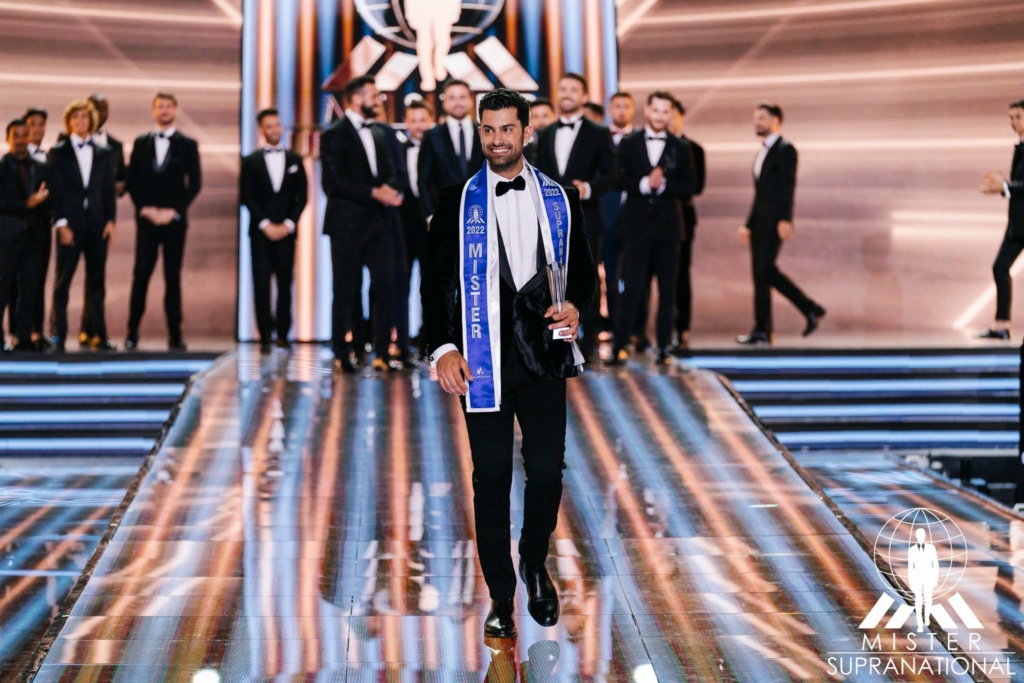 Results
Mister Supranational 2022: Cuba – Luis Daniel Gálvez
1st Runner-Up: Indonesia – Matthew Gilbert Wibowo
2nd Runner-Up: Greece – Leonidas Amfilochios
3rd Runner-Up: Mexico – Moises Peñaloza Δ
4th Runner-Up: Puerto Rico – Heriberto Rivera
Top 10
Brazil – Guilherme Werner
El Salvador – Adrián Itzam Monge
France - Pierre Bondon
Thailand – Teenarupakorn Muangmai §
Vietnam – Bùi Xuân Đạt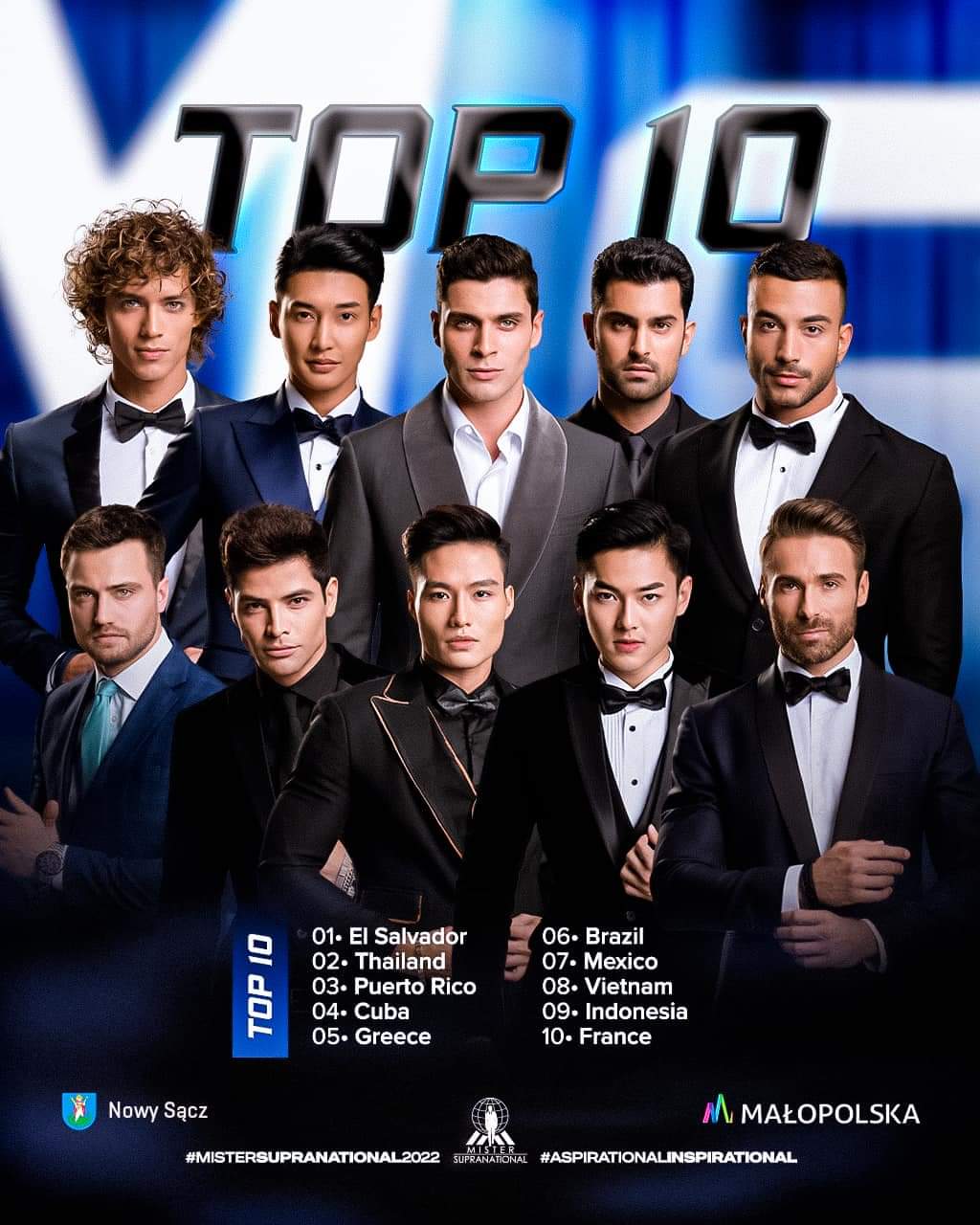 Top 20
Argentina – Angel Olaya
Belgium – Yentl van Hoorbeke
Dominican Republic – Lewis Echavarria
Italy – Giuseppe Santagata Δ
Korea – Han Jung-wan Δ
Peru – Nicola Roberto
Philippines – RaÉd Fernandez Al-Zghayér
Spain – Manuel Ndele
Trinidad and Tobago – Wynter Mason
Venezuela – Anthony Gallard
---
Continental Titleholders
Africa: Namibia – Jean-Louis Knouwds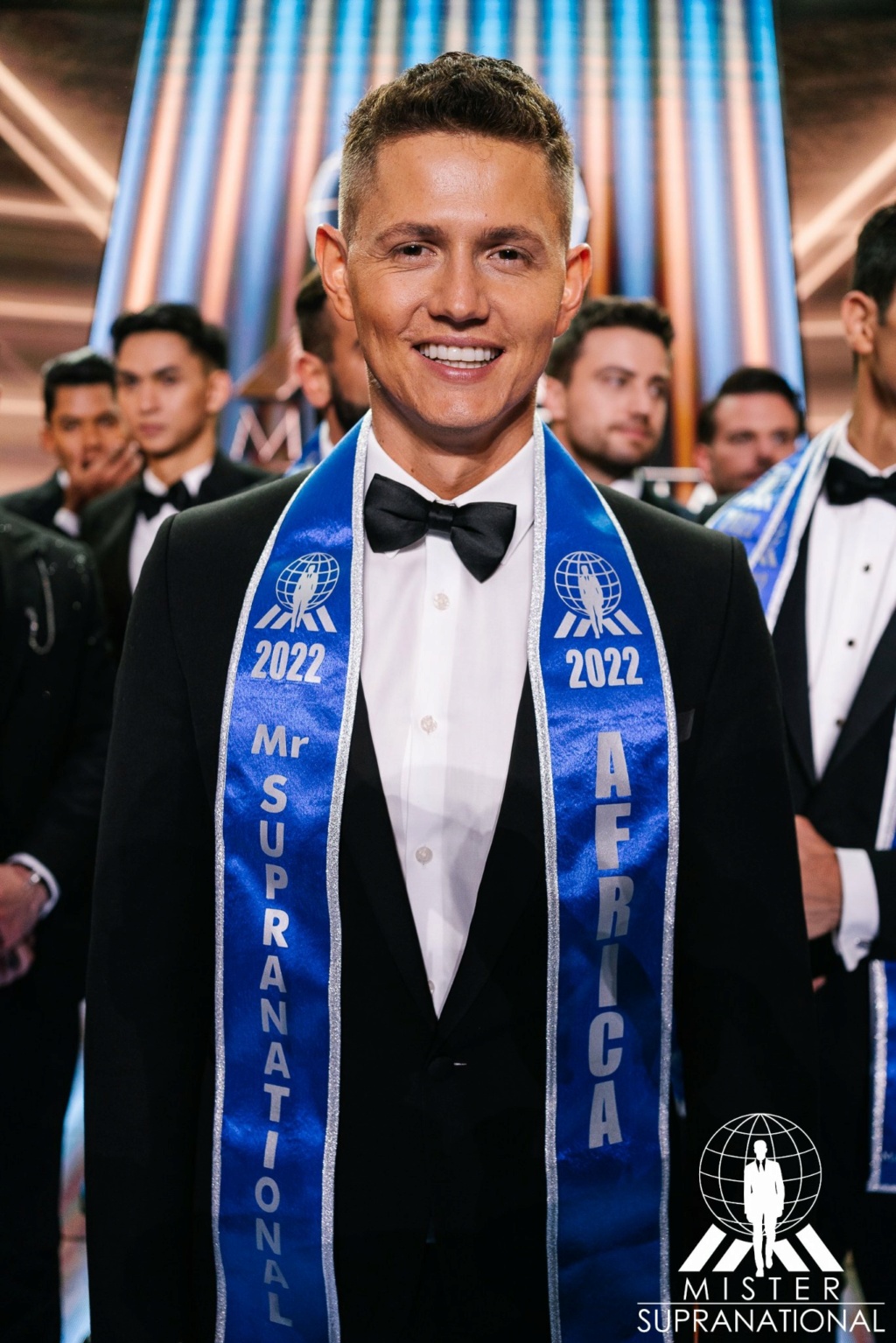 Americas: Brazil – Guilherme Werner
Asia: Vietnam – Bùi Xuân Đạt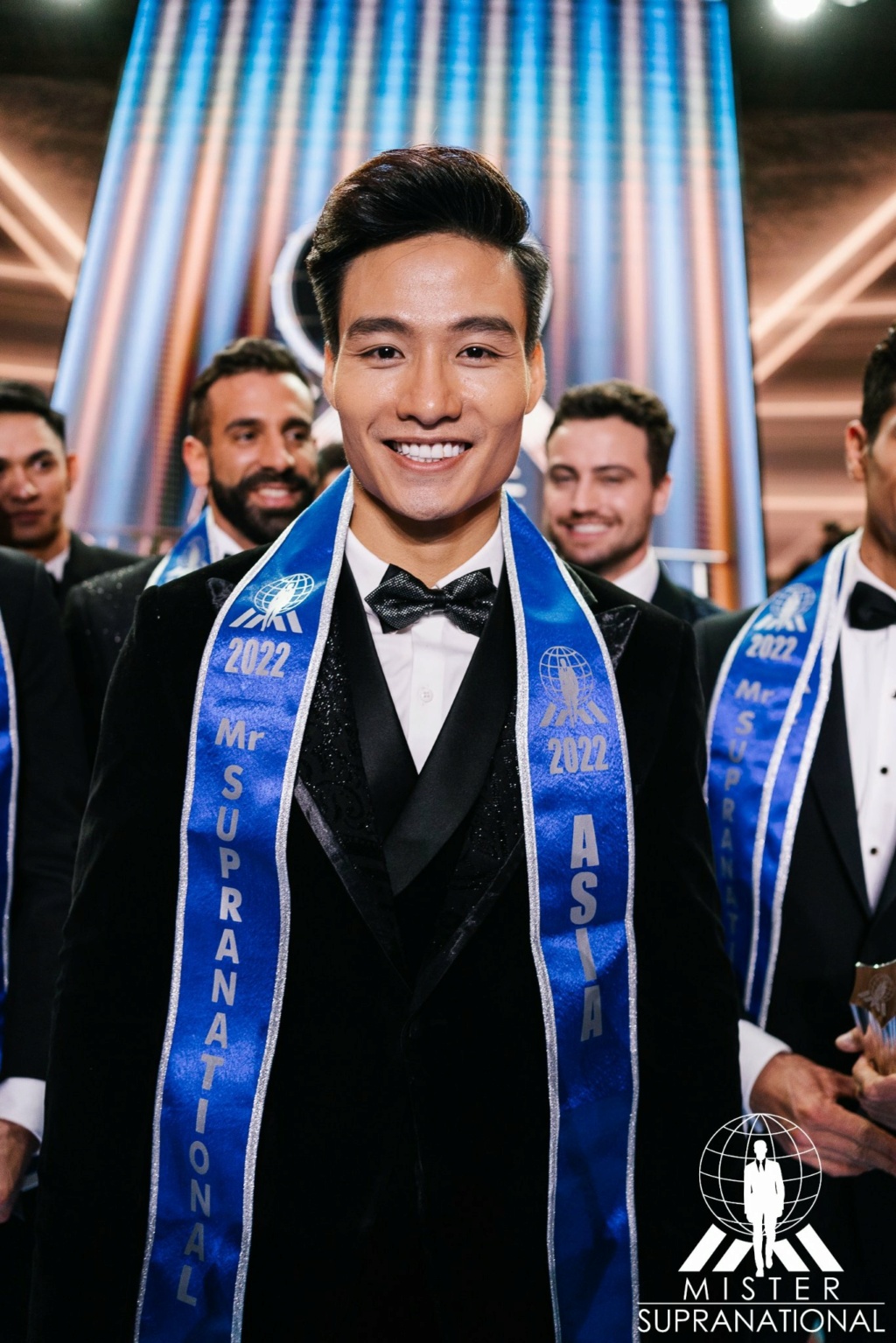 Caribbean: Trinidad and Tobago – Wynter Mason
Europe: France – Pierre Bondon
---
Special awards
Mister Fitness: France – Pierre Bondon
Supra Fan Vote: Thailand – Teenarupakorn Muangmai
Mister Influencer: Italy – Giuseppe Santagata
Supra Chat: Korea – Han Jung-wan
Top Model: Mexico – Moises Peñaloza
Mister Friendship: Italy – Giuseppe Santagata
Mister Personality: Mexico – Moises Peñaloza
Mister Photogenic: Puerto Rico – Heriberto Rivera
Mister Talent: Nepal – Sanish Shrestha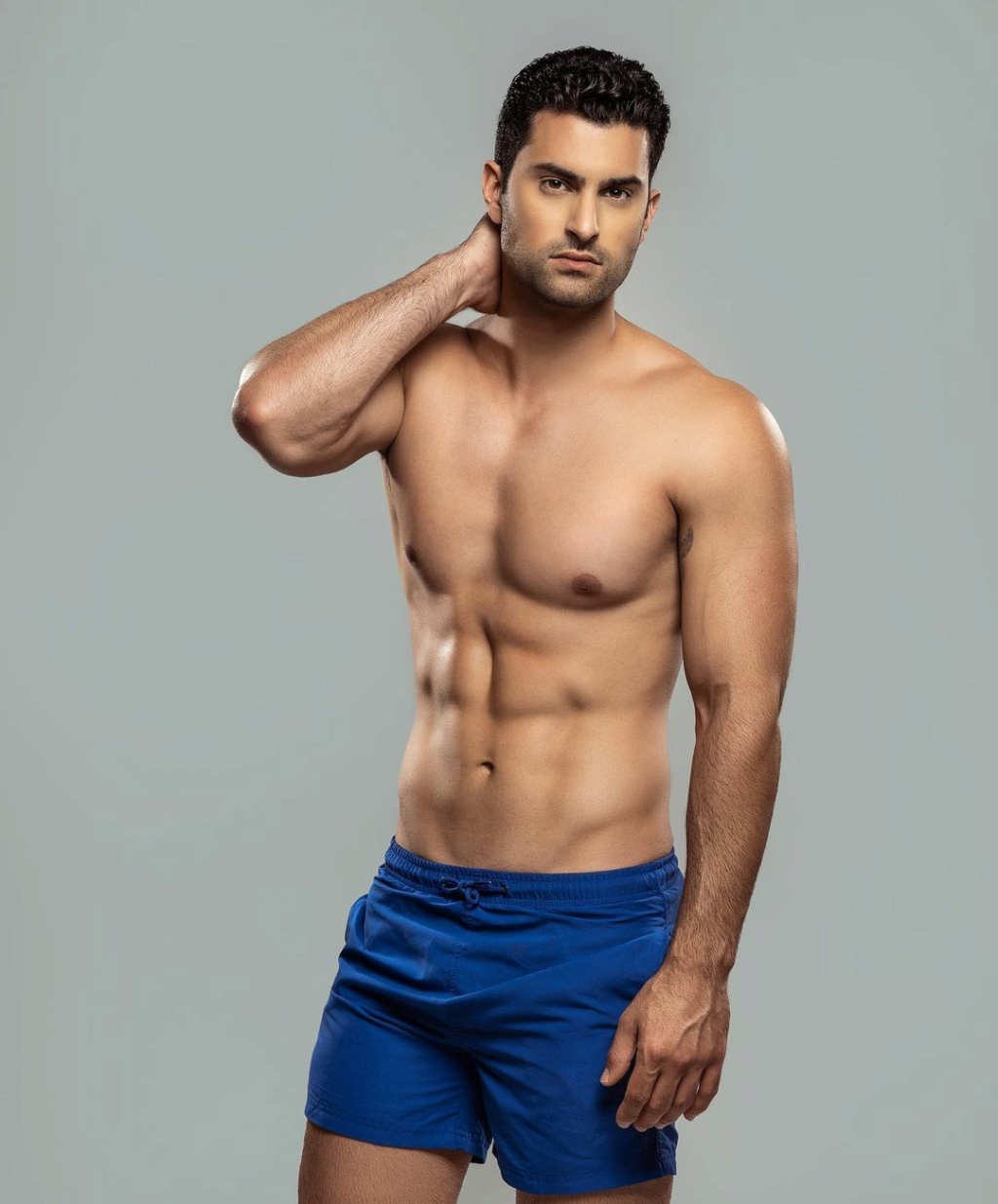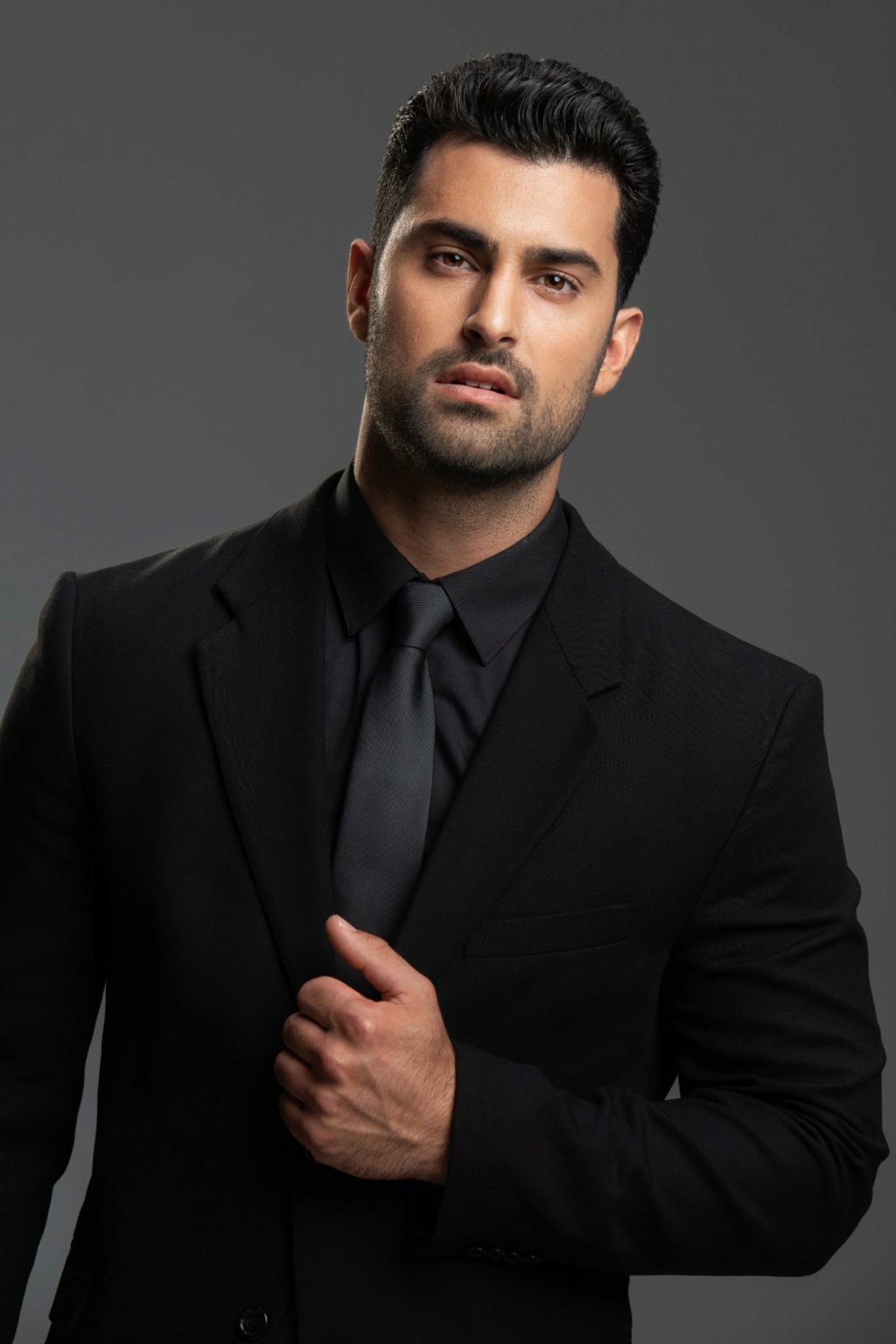 _________________

bonner

FORUM ADMINISTRATOR





Number of posts

: 99744


Age

: 32


Location

: Makati City, Philippines


Favourite Pageant

: Miss Universe
Bb Pilipinas


Favourite Miss

: Lalaine Bennett (Philippines Universe 1963 - From our Town Bayombong)
Rachel Smith(Miss USA 2007)
Angela Martini (Miss Albania Universe 2010)



Registration date :

2008-11-17






Similar topics
---
Permissions in this forum:
You
cannot
reply to topics in this forum