sandra mavro

PAGEANT REPORTER





Number of posts

: 3521


Location

: Dublin, Ireland


Favourite Pageant

: MU | MW


Favourite Miss

: Rozanna Purcell • IE 2010,
Olivia Culpo • US 2012,
Danielle Hooper • MN US 2013,
Valerie Abou Chacra • LB 2015,
Virginia Limongi • EC2018


Registration date :

2010-06-29






Last edited by sandra mavro on Tue Aug 07, 2018 10:29 am; edited 2 times in total

sandra mavro

PAGEANT REPORTER





Number of posts

: 3521


Location

: Dublin, Ireland


Favourite Pageant

: MU | MW


Favourite Miss

: Rozanna Purcell • IE 2010,
Olivia Culpo • US 2012,
Danielle Hooper • MN US 2013,
Valerie Abou Chacra • LB 2015,
Virginia Limongi • EC2018


Registration date :

2010-06-29






She is the one not mentioned in any prediction
_________________

Wojtek

FORUM ADMINISTRATOR





Number of posts

: 28979


Age

: 31


Location

: Poland


Favourite Pageant

: None


Favourite Miss

: Aneta Kreglicka, Alyssa Campanella


Registration date :

2010-06-24






Ysabel Bisnath is Miss World Trinidad and Tobago 2018
A 25-year-old lawyer was crowned the new Miss World Trinidad and Tobago during the finals held August 5 at the National Academy for Performing Arts.
The Oxford University graduate, representing Port of Spain West, will now head on to compete at the 2018 Miss World finals to be held in China in December.
Britney Smith (South Oropouche) finished first runner-up while Tishanna Mitchell (St. Augustine) placed second runner-up.
Bisnath is a National Open Scholarship winner and an award winning public speaker. She is fluent in French, Italian and Spanish.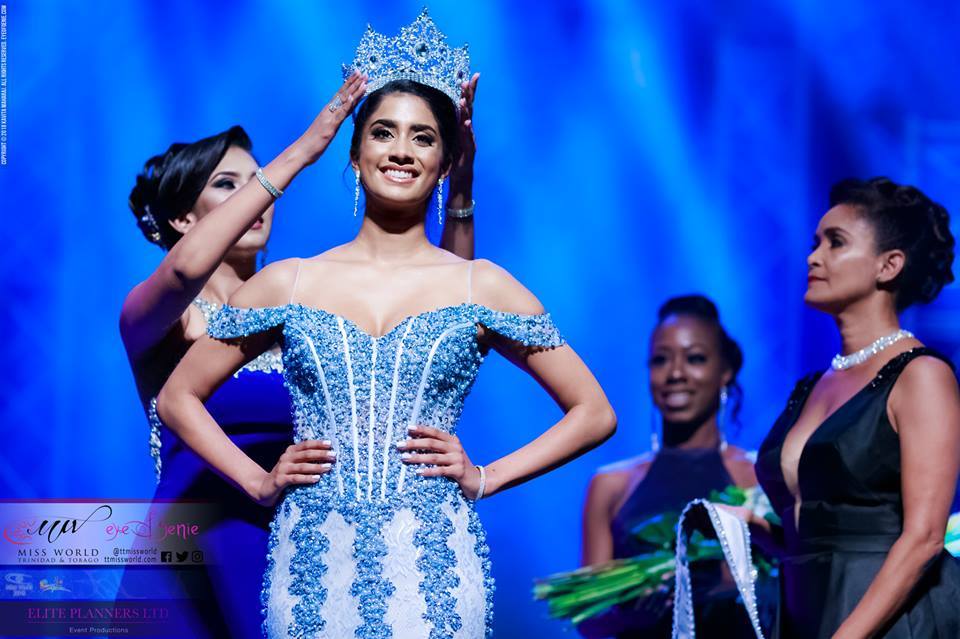 _________________

bonner

FORUM ADMINISTRATOR





Number of posts

: 101587


Age

: 32


Location

: Makati City, Philippines


Favourite Pageant

: Miss Universe
Bb Pilipinas


Favourite Miss

: Lalaine Bennett (Philippines Universe 1963 - From our Town Bayombong)
Rachel Smith(Miss USA 2007)
Angela Martini (Miss Albania Universe 2010)



Registration date :

2008-11-17







bonner

FORUM ADMINISTRATOR





Number of posts

: 101587


Age

: 32


Location

: Makati City, Philippines


Favourite Pageant

: Miss Universe
Bb Pilipinas


Favourite Miss

: Lalaine Bennett (Philippines Universe 1963 - From our Town Bayombong)
Rachel Smith(Miss USA 2007)
Angela Martini (Miss Albania Universe 2010)



Registration date :

2008-11-17







sandra mavro

PAGEANT REPORTER





Number of posts

: 3521


Location

: Dublin, Ireland


Favourite Pageant

: MU | MW


Favourite Miss

: Rozanna Purcell • IE 2010,
Olivia Culpo • US 2012,
Danielle Hooper • MN US 2013,
Valerie Abou Chacra • LB 2015,
Virginia Limongi • EC2018


Registration date :

2010-06-29







sandra mavro

PAGEANT REPORTER





Number of posts

: 3521


Location

: Dublin, Ireland


Favourite Pageant

: MU | MW


Favourite Miss

: Rozanna Purcell • IE 2010,
Olivia Culpo • US 2012,
Danielle Hooper • MN US 2013,
Valerie Abou Chacra • LB 2015,
Virginia Limongi • EC2018


Registration date :

2010-06-29






---
Permissions in this forum:
You
cannot
reply to topics in this forum