Farah Vavaihan

PAGEANT REPORTER





Number of posts

: 14240


Location

: Laguna, Philippines


Favourite Pageant

: Miss International Queen


Favourite Miss

: Kevin Balot


Registration date :

2016-01-31







Farah Vavaihan

PAGEANT REPORTER





Number of posts

: 14240


Location

: Laguna, Philippines


Favourite Pageant

: Miss International Queen


Favourite Miss

: Kevin Balot


Registration date :

2016-01-31







bonner

FORUM ADMINISTRATOR





Number of posts

: 110492


Age

: 33


Location

: Makati City, Philippines


Favourite Pageant

: Miss Universe
Bb Pilipinas


Favourite Miss

: Lalaine Bennett (Philippines Universe 1963 - From our Town Bayombong)
Rachel Smith(Miss USA 2007)
Angela Martini (Miss Albania Universe 2010)



Registration date :

2008-11-17







bonner

FORUM ADMINISTRATOR





Number of posts

: 110492


Age

: 33


Location

: Makati City, Philippines


Favourite Pageant

: Miss Universe
Bb Pilipinas


Favourite Miss

: Lalaine Bennett (Philippines Universe 1963 - From our Town Bayombong)
Rachel Smith(Miss USA 2007)
Angela Martini (Miss Albania Universe 2010)



Registration date :

2008-11-17







bonner

FORUM ADMINISTRATOR





Number of posts

: 110492


Age

: 33


Location

: Makati City, Philippines


Favourite Pageant

: Miss Universe
Bb Pilipinas


Favourite Miss

: Lalaine Bennett (Philippines Universe 1963 - From our Town Bayombong)
Rachel Smith(Miss USA 2007)
Angela Martini (Miss Albania Universe 2010)



Registration date :

2008-11-17







bonner

FORUM ADMINISTRATOR





Number of posts

: 110492


Age

: 33


Location

: Makati City, Philippines


Favourite Pageant

: Miss Universe
Bb Pilipinas


Favourite Miss

: Lalaine Bennett (Philippines Universe 1963 - From our Town Bayombong)
Rachel Smith(Miss USA 2007)
Angela Martini (Miss Albania Universe 2010)



Registration date :

2008-11-17







bonner

FORUM ADMINISTRATOR





Number of posts

: 110492


Age

: 33


Location

: Makati City, Philippines


Favourite Pageant

: Miss Universe
Bb Pilipinas


Favourite Miss

: Lalaine Bennett (Philippines Universe 1963 - From our Town Bayombong)
Rachel Smith(Miss USA 2007)
Angela Martini (Miss Albania Universe 2010)



Registration date :

2008-11-17







bonner

FORUM ADMINISTRATOR





Number of posts

: 110492


Age

: 33


Location

: Makati City, Philippines


Favourite Pageant

: Miss Universe
Bb Pilipinas


Favourite Miss

: Lalaine Bennett (Philippines Universe 1963 - From our Town Bayombong)
Rachel Smith(Miss USA 2007)
Angela Martini (Miss Albania Universe 2010)



Registration date :

2008-11-17






I think she's not happy with her title since she's the only strong Teens she automatically got the title TEEN ECO.

bonner

FORUM ADMINISTRATOR





Number of posts

: 110492


Age

: 33


Location

: Makati City, Philippines


Favourite Pageant

: Miss Universe
Bb Pilipinas


Favourite Miss

: Lalaine Bennett (Philippines Universe 1963 - From our Town Bayombong)
Rachel Smith(Miss USA 2007)
Angela Martini (Miss Albania Universe 2010)



Registration date :

2008-11-17






Dethroned

BREAKING NEWS!
Vanessa Mae Walters, one of the winners at Miss World Philippines 2019 pageant is officially dethroned by Arnold Vegafria today.

The organization strip Vanessa Walters of her crown and title as Miss Eco Teen Philippines 2019 for the following reasons:

1.) Misrepresentation of her credentials;
2.) Unprofessional behaviour
a. Non-attendance in official functions to promote Miss Eco Teen Philippines;
b. Walking out on meetings with the National Director; and
c. Refusal to sign the contract with the organization.
3.) Indecency
a. The Miss Eco Teen International Organization has called our attention to nude photos of Ms. Walters circulating online and posted on her own social media accounts; and
b. Public dispaly of alcohol and tobacco use.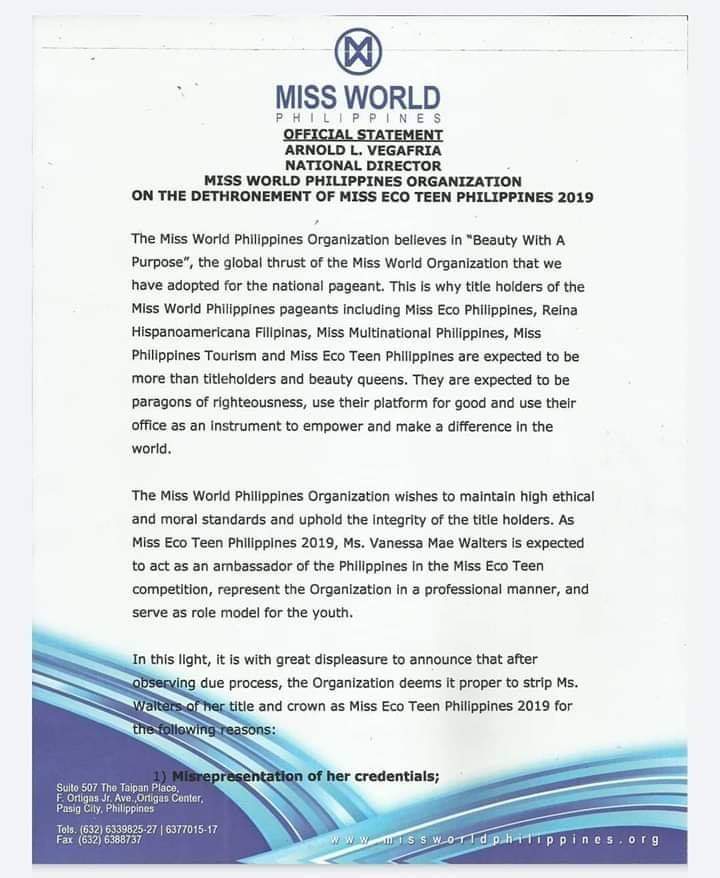 Hepzzz

BEAUTY SPECIALIST





Number of posts

: 2482


Location

: Philippines


Favourite Pageant

: Bb.Pilipinas


Favourite Miss

: Shamcey Supsup
Mj Lastimosa


Registration date :

2011-10-08






---
Permissions in this forum:
You
cannot
reply to topics in this forum