MISTER GLOBAL ECUADOR 2020/21
The 28 years old, who stands 184 cm tall, FABRICIO CAICEDO (@erick_et23) is a Mens Physique and Fashion Model.
He was selected as Mister Global Ecuador 2020 who will represent the country in the upcoming Mister Global 2021.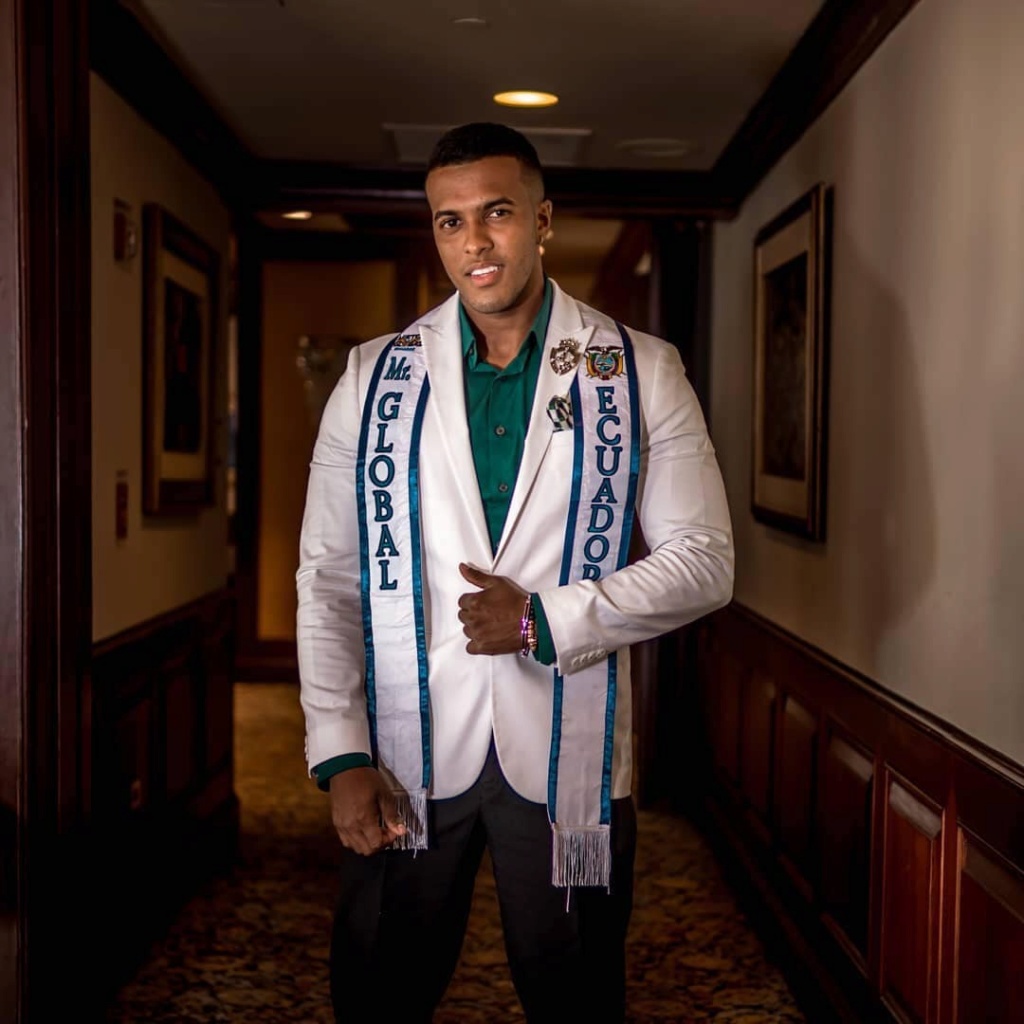 He was named Mister Ecuador 2019, Mister Guayaquil Absoluto 2019, and also Top 5 of Sudamericano 2019.
Last edited by bonner on Sun Apr 24, 2022 2:14 pm; edited 2 times in total
_________________

bonner

FORUM ADMINISTRATOR





Number of posts

: 101392


Age

: 32


Location

: Makati City, Philippines


Favourite Pageant

: Miss Universe
Bb Pilipinas


Favourite Miss

: Lalaine Bennett (Philippines Universe 1963 - From our Town Bayombong)
Rachel Smith(Miss USA 2007)
Angela Martini (Miss Albania Universe 2010)



Registration date :

2008-11-17







bonner

FORUM ADMINISTRATOR





Number of posts

: 101392


Age

: 32


Location

: Makati City, Philippines


Favourite Pageant

: Miss Universe
Bb Pilipinas


Favourite Miss

: Lalaine Bennett (Philippines Universe 1963 - From our Town Bayombong)
Rachel Smith(Miss USA 2007)
Angela Martini (Miss Albania Universe 2010)



Registration date :

2008-11-17







bonner

FORUM ADMINISTRATOR





Number of posts

: 101392


Age

: 32


Location

: Makati City, Philippines


Favourite Pageant

: Miss Universe
Bb Pilipinas


Favourite Miss

: Lalaine Bennett (Philippines Universe 1963 - From our Town Bayombong)
Rachel Smith(Miss USA 2007)
Angela Martini (Miss Albania Universe 2010)



Registration date :

2008-11-17







bonner

FORUM ADMINISTRATOR





Number of posts

: 101392


Age

: 32


Location

: Makati City, Philippines


Favourite Pageant

: Miss Universe
Bb Pilipinas


Favourite Miss

: Lalaine Bennett (Philippines Universe 1963 - From our Town Bayombong)
Rachel Smith(Miss USA 2007)
Angela Martini (Miss Albania Universe 2010)



Registration date :

2008-11-17







bonner

FORUM ADMINISTRATOR





Number of posts

: 101392


Age

: 32


Location

: Makati City, Philippines


Favourite Pageant

: Miss Universe
Bb Pilipinas


Favourite Miss

: Lalaine Bennett (Philippines Universe 1963 - From our Town Bayombong)
Rachel Smith(Miss USA 2007)
Angela Martini (Miss Albania Universe 2010)



Registration date :

2008-11-17







bonner

FORUM ADMINISTRATOR





Number of posts

: 101392


Age

: 32


Location

: Makati City, Philippines


Favourite Pageant

: Miss Universe
Bb Pilipinas


Favourite Miss

: Lalaine Bennett (Philippines Universe 1963 - From our Town Bayombong)
Rachel Smith(Miss USA 2007)
Angela Martini (Miss Albania Universe 2010)



Registration date :

2008-11-17







bonner

FORUM ADMINISTRATOR





Number of posts

: 101392


Age

: 32


Location

: Makati City, Philippines


Favourite Pageant

: Miss Universe
Bb Pilipinas


Favourite Miss

: Lalaine Bennett (Philippines Universe 1963 - From our Town Bayombong)
Rachel Smith(Miss USA 2007)
Angela Martini (Miss Albania Universe 2010)



Registration date :

2008-11-17







bonner

FORUM ADMINISTRATOR





Number of posts

: 101392


Age

: 32


Location

: Makati City, Philippines


Favourite Pageant

: Miss Universe
Bb Pilipinas


Favourite Miss

: Lalaine Bennett (Philippines Universe 1963 - From our Town Bayombong)
Rachel Smith(Miss USA 2007)
Angela Martini (Miss Albania Universe 2010)



Registration date :

2008-11-17







bonner

FORUM ADMINISTRATOR





Number of posts

: 101392


Age

: 32


Location

: Makati City, Philippines


Favourite Pageant

: Miss Universe
Bb Pilipinas


Favourite Miss

: Lalaine Bennett (Philippines Universe 1963 - From our Town Bayombong)
Rachel Smith(Miss USA 2007)
Angela Martini (Miss Albania Universe 2010)



Registration date :

2008-11-17






Similar topics
---
Permissions in this forum:
You
cannot
reply to topics in this forum