Kawtar Benhalima replaces Fatima-Zahra Khayat to compete in Miss Universe representing Morocco.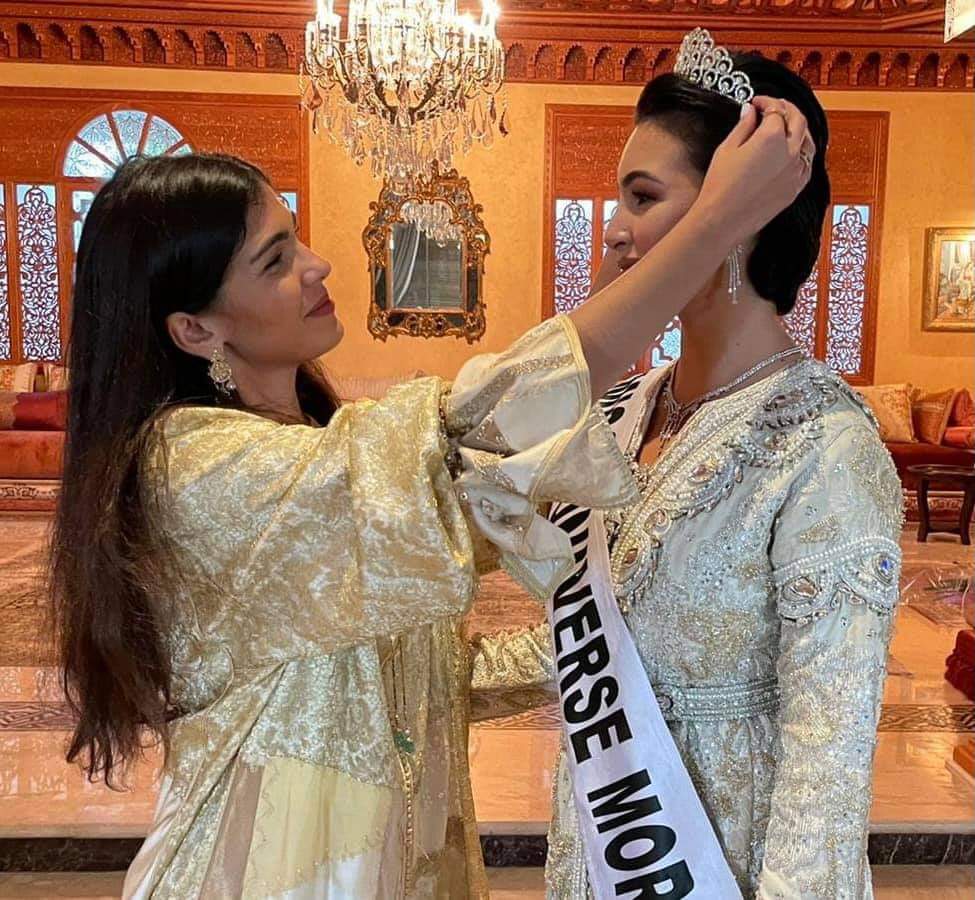 After being crowned four days ago, Fatima-Zahra Khayat had to pass on the Miss Universe Morocco 2021 title to Benhalima. She is currently under medication due to an accident. 
Benhalima, who finished first runner-up last November 6th succeeded Khayat and took over the title. She is now the offcial delegate of their countty at the 70th Miss Universe competition this coming December in Eilat, Israel.

Farah Vavaihan

PAGEANT REPORTER





Number of posts

: 14240


Location

: Laguna, Philippines


Favourite Pageant

: Miss International Queen


Favourite Miss

: Kevin Balot


Registration date :

2016-01-31







Farah Vavaihan

PAGEANT REPORTER





Number of posts

: 14240


Location

: Laguna, Philippines


Favourite Pageant

: Miss International Queen


Favourite Miss

: Kevin Balot


Registration date :

2016-01-31







bonner

FORUM ADMINISTRATOR





Number of posts

: 110358


Age

: 33


Location

: Makati City, Philippines


Favourite Pageant

: Miss Universe
Bb Pilipinas


Favourite Miss

: Lalaine Bennett (Philippines Universe 1963 - From our Town Bayombong)
Rachel Smith(Miss USA 2007)
Angela Martini (Miss Albania Universe 2010)



Registration date :

2008-11-17







bonner

FORUM ADMINISTRATOR





Number of posts

: 110358


Age

: 33


Location

: Makati City, Philippines


Favourite Pageant

: Miss Universe
Bb Pilipinas


Favourite Miss

: Lalaine Bennett (Philippines Universe 1963 - From our Town Bayombong)
Rachel Smith(Miss USA 2007)
Angela Martini (Miss Albania Universe 2010)



Registration date :

2008-11-17







bonner

FORUM ADMINISTRATOR





Number of posts

: 110358


Age

: 33


Location

: Makati City, Philippines


Favourite Pageant

: Miss Universe
Bb Pilipinas


Favourite Miss

: Lalaine Bennett (Philippines Universe 1963 - From our Town Bayombong)
Rachel Smith(Miss USA 2007)
Angela Martini (Miss Albania Universe 2010)



Registration date :

2008-11-17







bonner

FORUM ADMINISTRATOR





Number of posts

: 110358


Age

: 33


Location

: Makati City, Philippines


Favourite Pageant

: Miss Universe
Bb Pilipinas


Favourite Miss

: Lalaine Bennett (Philippines Universe 1963 - From our Town Bayombong)
Rachel Smith(Miss USA 2007)
Angela Martini (Miss Albania Universe 2010)



Registration date :

2008-11-17







bonner

FORUM ADMINISTRATOR





Number of posts

: 110358


Age

: 33


Location

: Makati City, Philippines


Favourite Pageant

: Miss Universe
Bb Pilipinas


Favourite Miss

: Lalaine Bennett (Philippines Universe 1963 - From our Town Bayombong)
Rachel Smith(Miss USA 2007)
Angela Martini (Miss Albania Universe 2010)



Registration date :

2008-11-17







bonner

FORUM ADMINISTRATOR





Number of posts

: 110358


Age

: 33


Location

: Makati City, Philippines


Favourite Pageant

: Miss Universe
Bb Pilipinas


Favourite Miss

: Lalaine Bennett (Philippines Universe 1963 - From our Town Bayombong)
Rachel Smith(Miss USA 2007)
Angela Martini (Miss Albania Universe 2010)



Registration date :

2008-11-17







bonner

FORUM ADMINISTRATOR





Number of posts

: 110358


Age

: 33


Location

: Makati City, Philippines


Favourite Pageant

: Miss Universe
Bb Pilipinas


Favourite Miss

: Lalaine Bennett (Philippines Universe 1963 - From our Town Bayombong)
Rachel Smith(Miss USA 2007)
Angela Martini (Miss Albania Universe 2010)



Registration date :

2008-11-17






---
Permissions in this forum:
You
cannot
reply to topics in this forum