Nuestra Belleza México
, literally Our Beauty Mexico, is the most important beauty pageant of Mexico. Held annually since 1994, the pageant is directed by the country's first Miss Universe, Lupita Jones, where over thirty young women compete each year. The winner is chosen to represent the country in Miss Universe, while second place does the same in Miss World. The organization acquired the Miss International franchise in 2007. The organization's first representative to Miss International since obtaining the franchise was chosen to be Priscila Perales, Miss Mexico Universe 2006, who went on to win the 2007 title, thus making her the first Miss International winner from Mexico. Nuestra Belleza Mexico is usually held the year before the winners participate internationally.
Aside from the usual requirements of beauty pageants (citizenship, age, height, etc.), to be eligible to compete in Nuestra Belleza Mexico, contestants must first win their state titles. Although it is not uncommon for some states to have more than one representative competing the same year. This usually occurs when non-winning contestants in their state pageants are invited to participate in the national pageant by Lupita Jones. If one of the winners of Nuestra Belleza Mexico is unable to finish her reign, the runner-up, or as she is referred to in the pageant, the suplente (substitute), then takes her place as the titleholder. Since the pageant was first held in 1994, the highest placement obtained by a Mexican representative in the international pageants mentioned was by Miss International 2007 Priscila Perales. Other representatives who have been the closest to winning were Laura Elizondo (third runner-up in Miss Universe 2005),Dafne Molina (first runner-up in Miss World 2005) and Elisa Najera (fourth runner-up in Miss Universe 2008)
2007
NBMU ELISA NÁJERA GUALITO
NBMM ANAGABRIELA ESPINOZA MARROQUÍN
2006
NBMU ROSA MARÍA OJEDA CUEN
NBMM CAROLINA MORAN
2005
NBMU PRISCILA PERALES ELIZONDO
NBMM KARLA JIMÉNEZ AMESCUA
2004
NBMU LAURA ELIZONDO ERHARD
NBMM DAFNE MOLINA LONA
2003
NBMIU ROSALVA YAZMIN LUNA
NBMM YESICA RAMÍREZ
2002
NBMU MARISOL GONZÁLEZ
NBMM BLANCA ZUMARRAGA
2001
NBMU ERICKA CRUZ
NBMM TATIANA RODRÍGUEZ
2000
NBMU JACQUELINE BRACAMONTES
NBMM PAULINA FLORES
1999
NBMU LETICIA MURRAY
NBMM DANNET VELASCO
1998
NBMU SILVIA SALGADO
NBMM VILMA ZAMORA
1997
NBMU KATHY FUENTES
NBMM BLANCA SOTO
1996
NBMU REBECA TAMEZ
NBMM YESSICA SALAZAR
1995
NBMU VANESSA GUZMÁN
NBMM ALEJANDRA QUINTERO
1994
NBMU LUZ MARÍA ZETINA
Below are the names of the annual titleholders of Nuestra Belleza Mexico, listed in ascending order and according to the year in which they participated in their respective international beauty pageants (Miss Universe, Miss World and Miss International) and their final placements in the aforementioned international pageants after their participation.
MISS MEXICO UNIVERSE
2008 Elisa Nájera Gualito (Fourth Runner-up)
2007 Rosa María Ojeda Cuen (Top 10)
2006 Priscila Perales Elizondo (Top 10)
2005 Laura Elizondo Erhard (Third Runner-up)
2004 Rosalva Luna Ruiz (Top 15)
2003 Marisol González Casas
2002 Ericka Cruz Escalante
2001 Jacqueline Bracamontes Van Hoorde
2000 Leticia Murray Acedo
1999 Silvia Salgado Cavazos (Top 10)
1998 Katty Fuentes García
1997 Rebeca Tamez Jones
1996 Vanessa Guzmán Niebla (Top 6)
1995 Luz María Zetina Lugo
MISS MEXICO WORLD
2008 Anagabriela Espinoza Marroquín (To be determined)
2007 Carolina Morán Gordillo (Second Runner-up)
2006 Karla Jiménez Amezcua (Top 17)
2005 Dafne Molina Lona (First Runner-up)
2004 Yessica Ramírez Meza (Top 15)
2003 Erika Honstein García
2002 Blanca Zumárraga Contreras
2001 Tatiana Rodríguez Romero
2000 Paulina Flores Arias
1999 Danette Velasco Bataller
1998 Vilma Zamora Suñol
1997 Blanca Delfina Soto Benavides
1996 Yessica Salazar González (Top 10)
1995 Alejandra Quintero Velasco (Top 10)
MISS MEXICO INTERNATIONAL
2008 Lorenza Bernot Krauze Morelos (To be determined)
2007 Priscila Perales Elizondo Nuevo León (Winner - Miss International 2007)
HONOR A QUIEN HONOR MERECE :-110--:
Muy bello tu post...
:-126-:
Desi..
UPDATING THE THREAD
2008
NBMU - KARLA MARÍA CARRILLO GONZÁLEZ
NBMW - PERLA JUDITH BELTRÁN ACOSTA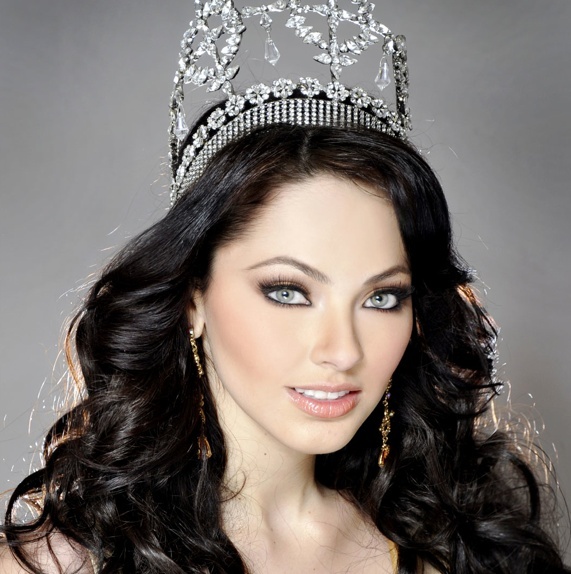 ---
Permissions in this forum:
You
cannot
reply to topics in this forum